Adaptation of Afro's ongoing cute-girls camping manga coming in winter 2018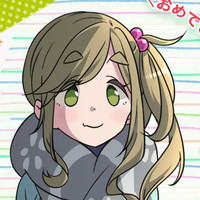 The Twitter account for the winter 2018 TV anime adaptation of Afro's ongoing cute-girls camping manga YuruCamp△ (Yen Press has licensed the series for North American release, with plans to release it as Laid Back Camp) has been posting candid "offshoot" character illustrations, and has now gotten to the fourth of its principals, Aoi Inuyama (CV Aki Toyosaki).
Look for the series soon from:
Director: Yoshiaki Kyogoku (Encouragement of Climb, KuroBas and Tokyo Ghoul storyboards and episode directing)
Series composition: Jin Tanaka (Anne-Happy)
Character design: Mutsumi Sasaki (Dragonar Academy)
Animation Production: C-Station (STARMYU, Dragonar Academy)
【オフショットイラスト あおい編公開】
5人のキャラクターの日常が垣間見れるオフショットイラストあおい編公開です。
帰りの電車でうたた寝するあおい!!
寝過ごさないか心配です(*´Д`)https://t.co/9PTFFsMYwp #ゆるキャン pic.twitter.com/kFkYEIJUwv

— TVアニメ「ゆるキャン△」公式 (@yurucamp_anime) October 28, 2017
Previousy...
Nadeshiko Kagamihara (CV Yumiri Hanamori)
【オフショットイラスト なでしこ編公開】
5人の日常の様子が垣間見れるオフショットイラストを公開!第一弾はなでしこ。電車に乗って今日も元気に登校です!ゆるキャンパーのみなさんも、今日も学校にお仕事に頑張りましょう☆https://t.co/9PTFFsMYwp#ゆるキャン pic.twitter.com/1l4qwH7rB5

— TVアニメ「ゆるキャン△」公式 (@yurucamp_anime) September 14, 2017
Rin Shima (CV Nao Tōyama)
【オフショットイラスト リン編公開】
リンの誕生日(10月1日)に合わせてオフショットイラストを公開しました。駐車場で休憩中の一コマです。
次はどのキャラクターのイラストが公開されるのか楽しみにお待ちください。https://t.co/9PTFFsMYwp#ゆるキャン pic.twitter.com/jndNpT3DhM

— TVアニメ「ゆるキャン△」公式 (@yurucamp_anime) September 30, 2017
Chiaki Oogaki (CV Sayuri Hara)
【オフショットイラスト 千明編公開】
5人のキャラクターの日常が垣間見れるオフショットイラスト千明編公開です。寒い日に食べるアイスもまた美味しいですよね(*'▽')
後ろにはうっすら富士山も!https://t.co/9PTFFsMYwp#ゆるキャン pic.twitter.com/BR3mrrFkgI

— TVアニメ「ゆるキャン△」公式 (@yurucamp_anime) October 12, 2017
------
Follow on Twitter at @aicnanime