This is one for the Gundam 00 fans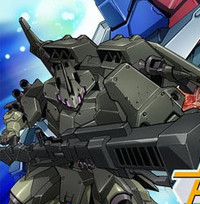 This Renato brothers (CV Yuji Ueda) are back in a new, streaming episode of Gundam Build Fighter's BATTLOGUE follow-up. This is one for the Gundam 00 fans. Like the previous BATTLOGUE, the debut is associated with the sales of associated kits, and, this time, it's GBF versions of the GNX-803T GN-XIV and Cherudim Gundam SAGA.
Having received intelligence from the regular forces, a team of three GN-X types are standing by in the jungle, seeking clues to the location of a private armed organization's base. Then suddenly, they detect an enemy transport container on their sensors. The GN-X team immediately begin pursuit, but a Cherudim Gundam SAGA emerges from the container and bars their way. Two GN-X units engage the deployed Cherudim Gundam SAGA, while the remaining one continues pursuing the transport container, eventually discovering an enemy base concealed by optical camouflage. But what appears there is a huge opponent, with light glowing from every part.
明日13時~先行配信スタートの『ガンダムビルドファイターズ バトローグ』第4話より、ジンクスIV TYPE.GBFの予約がスタート! 迷彩イメージのカーキのカラーリングが特徴!どんな活躍か…気になる勇姿は明日の配信をお楽しみに! https://t.co/SaeeoXwPeS pic.twitter.com/G99o0gFi41

— バンダイ ホビー事業部 (@HobbySite) November 2, 2017
『ガンダムビルドファイターズ バトローグ』第4話配信スタートしました!3機のジンクス小隊を操るのは、あのレナート兄弟!…なぜ3機??気になる答えは本編で!→ https://t.co/rt6TKrapuH #g_bf pic.twitter.com/OI5QA3C1QQ

— バンダイ ホビー事業部 (@HobbySite) November 3, 2017
「ガンダムビルドファイターズ バトローグ」第4話に登場いたしますケルディムガンダムサーガ TYPE.GBF 機動戦士ガンダム00Vでデザインした機体ですが、BFに合わせてカラーデザインさせていただきました。https://t.co/VNWgHFkpqD #g_b pic.twitter.com/tRUFVPcA0u

— 柳瀬敬之 (@yanase_t) November 3, 2017
『ガンダムビルドファイターズ バトローグ』第4話が「Amazon プライム・ビデオ」にて先行配信スタート!
劇中で激闘を繰り広げる「HGBF ケルディムガンダムサーガ TYPE.GBF」は、早くも11月11日発売予定!! #g_bfhttps://t.co/ZQ94kMJCVr pic.twitter.com/OMCDVL87aa

— バンダイ ホビー事業部 (@HobbySite) November 3, 2017

------
Follow on Twitter at @aicnanime