A dublagem ficou a cargo do estúdio Dubbing Company, de Campinas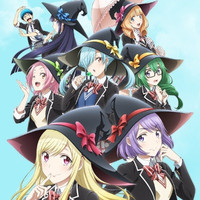 Conheça então os nomes dos dubladores de cada uma das obras. A dublagem ficou a cargo do estúdio Dubbing Company, de Campinas.
Lembrando que a versão dublada ficará disponível junto com a versão legendada com áudio original a partir do dia 16 de novembro para usuários premium e dia 23 para usuários no geral, sendo que as de Rokka no Yuusha e Yamada-kun to 7-nin no Majo estarão disponíveis para o mundo todo e Schwarzes Marken ficará restrito apenas para Brasil e Portugal.
Adlet Mayer: Roberto Rodrigues
Nashetania Loei Piena Augustra: Gabriela Pellegrino
Fremy Speeddraw: Jessica Cardia
Hans Humpty: Gustavo Martinez
Goldov Auora: Renan Alonso
Chamot Rosso: Amanda Tavares
Maura Chester: Amanda Moreira
---
Captain Irisdina (Iris) Bernhard

: Carla Martelli

Lieutenant Walther Kruger

: Enio Vivona

Lieutenant Gretel Jeckeln

: Beta Cinalli

Lieutenant Pham Thi Lan

: Gabriela Pellegrino

Second Lieutenant Anett Hosenfeld

: Mariana Pozatto

Second Lieutenant Sylwia Krzasińska

: Raquel Elaine

Second Lieutenant Theodor Eberbach

: Renan Alonso

Major Beatrix Brehme

: Karina Botiao

Lieutenant Colonel Heinze Axmann

: Andre Gaiani
---
Ryu Yamada

: Renan Alonso

Urara Shiraishi

: Raissa Bueno

Toranosuke Miyamura

: Renan Villela

Nene Odagiri

: Jessica Cardia

Ushio Igarashi

: Gustavo Martinez

Leona Miyamura

: Amanda Moreira

Noa Takigawa

: Beta Cinalli

Mikoto Asuka

: Viviane Munuera
E sempre é bom lembrar também que o primeiro episódio de
Yamada-kun to 7-nin no Majo
dublado
vai ser exibido durante o evento
Henshin+, da editora JBC, no

dia 12 de novembro, domingo, das 10h às 18h e contará com palestras, lojas vendendo os títulos da JBC e mais surpresas.
Fique ligado nas CrunchyNotícias e em nossas redes sociais e não perca nenhum detalhe!