And, speaking of Splatoon, Viz has discussed their release plans for the manga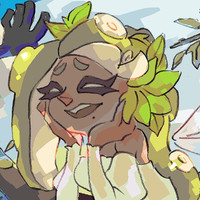 While Europe's latest Splatfest event in Nintendo's Splatoon 2 competitive shooter asked fans if they prefer warm or cold breakfast, and Japan asked about preferences in karaage fried food, with or without lemon (probably don't expect that one to be used internationally), North America is getting on near and dear to the geek heart this week. Pearl is repping sci-fi and Marina is repping fantasy as the inklings decide which is the superior genre.
Ready for the next #Splatoon2 #Splatfest? It's #TeamSciFi vs. #TeamFantasy! The Splatfest kicks off next Friday, 11/17, at 9PM PT! pic.twitter.com/xrp7RVyIlj

— Nintendo Versus (@NintendoVS) November 10, 2017
Will you blast-off with #TeamSciFi or fly high with #TeamFantasy? The latest #Splatoon2 #Splatfest kicks off this Friday at 9PM PT! pic.twitter.com/GPHJttoKKP

— Nintendo of America (@NintendoAmerica) November 15, 2017
Art for the Japanese Splatest
「からあげにレモンかける? レモンかける vs レモンかけない」。
食事の席では、ともすればバトルに発展しかねないお題だ。
それにしても、何故、人は分かり合えないのだろう。
自分の見える世界だけが全てではない。
価値観の違いを認め合うことが和平への道と……あれ? 何の話だっけ? pic.twitter.com/ur6WVnmlK9

— Splatoon(スプラトゥーン) (@SplatoonJP) November 8, 2017
Europe's
Warm breakfast vs. Cold breakfast. The battle of the breakfasts begins tomorrow in #Splatoon2! Have you chosen a side yet? pic.twitter.com/5WcaSpB3il

— Nintendo of Europe (@NintendoEurope) November 3, 2017
And, speaking of Splatoon, Viz has discussed their release plans for the manga. This launched December 12th.
The new series will be released exclusively in print and was created by Sankichi Hinodeya. Splatoon is rated 'A' for All Ages and Volume 1 carries an MSRP of $9.99 U.S. / $12.99 CAN. Future volumes will be published by VIZ Media on a quarterly basis.
They explain

In Splatoon, the Turf Wars have started in Inkopolis, and the team that inks the most ground will be crowned the winner! Goggles and Team Blue are ranked lower than their competitors. But with some teamwork and a touch of creativity, they might just leave their mark!


Splatoon is a third-person shooter video game developed and published by Nintendo for the Wii UTM and was released worldwide in 2015. The game centers around characters known as Inklings who can transform between humanoid and squid-like forms. Inklings can hide or swim through colored ink sprayed on surfaces using shooters, blasters, chargers and sloshers, or brush-based weaponry. Splatoon has won multiple awards including a 2015 British Academy Children's Award, IGN's Best of 2015, and a SXSW Gaming Award in 2016. A sequel game titled, SplatoonTM 2, was recently released on the Nintendo SwitchTM platform.
------
Follow on Twitter at @aicnanime