See what made the latest Kono Light Novel ga Sugoi! (This Light Novel is Amazing!) list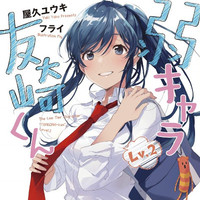 Every year since 2004's '05 guide, Takarajimasha publishes Kono Light Novel ga Sugoi! (This Light Novel is Amazing!), an overview of what's new and hot in Cool Japan's illustrated prose. With descriptions of what's on the shelves, it offers top lists of the fan favorites, as selected by online polls. These lists always invite anime adaptation speculation. Sure to fuel this, last year, Re:Zero was topped by The Ryuo's Work is Never Done!/Ryuuou no Oshigoto!, which is just about to get an anime adaptation.
There is a look at what made the list for the 2018 guide. See what made the list...
Bunko Collab Votes Top 10 -via industry votes:

1. The Ryuo's Work is Never Done!
2. 86
3. Infinite Dendrogram
4. Moon, Laika and Vampire Princess
5. Sword Art Online
6. Bokutachi no Remake/Remake our Life
7. Jaku-Chara Tomozaki-kun
8. Gamers!
9. Is It Wrong to Try to Pick Up Girls in a Dungeon?
10. A Sister's All You Need
Bunko Top 10 - via fan votes:

1. Sword Art Online
2. The Ryuo's Work is Never Done!
3. Konosuba
4. Seirei Gensouki - Konna Sekai de Deaeta Kimi ni
5. Re Zero
6. Classroom of the Elite
7. No Game No Life
8. Seishun Buta Yarou
9. The Irregular at Magic High School
10. A Certain Magical Index
Tankoubon Top 10
1. Honzuki no Gekokujou
2. I'm A Spider, So What?
3. Saga of Tanya the Evil
4. Overlord
5. Monogatari
6. That Time I Got Reincarnated as a Slime
7. Mushoku Tensei
8. Yokohama Station Fable
9. Majo no Tabitabi
10.If It's for My Daughter, I'd Even Defeat a Demon Lord
Tankoubon "Ordinary" Top 10:
1. Honzuki no Gekokujou
2. Overlord
3. Saga of Tanya The Evil
4. Slime
5. Monogatari
6. Mushoku Tensei
7. Kumo
8. Maou no Machizukuri
9. Majo no Tabitabi
10. In a Different World with a Smartphone
Female top 10
1 Misaka Mikoto 664 points / 240 votes
2 Main (Rozenmain, Honzuki) 288 points / 103 votes
3 Yuuki Asuna 253 points / 144 votes
4 Sakurajima Mai
5 Katou Megumi
6 Yukinoshita Yukino
7 Yuigahama Yui
8 Rem
9 Isshiki Iroha
10 Othinus
Male top 10
1 Kirito 612 points/254 votes
2 Hikigaya Hachiman 551 points/232 votes
3 Kamijou Touma 496 points/191 votes
4 Shiba Tatsuya 440 points/ 201 votes
5 Accelerator 407 points/ 164 votes
6 Sora 224 points
7 Natsuki Subaru 216 points
8 Ferdinand 208 points
9 Satou Kazumi 200 points
10 Ayanokoji Kiyotaka (196 points)
Characters top 10
1 Misaka Mikoto 664 points / 240 votes
2 Kirito 612 points/254 votes
3 Hikigaya Hachiman 551 points/232 votes
4 Kamijou Touma 496 points/191 votes
5 Shiba Tatsuya 440 points/ 201 votes
6 Accelerator 407 points/ 164 votes
7 Maine (Rozenmain, Honzuki) 288 points / 103 votes
8 Yuuki Asuna 253 points / 144 votes
9 Sora 224 points
10 Natsuki Subaru 216 points
Illustrator top 10
1 Haimura Kiyotaka 575 points / 224 votes
2 abec 492 points / 211 votes
3 Mishima Kurone 411 points /195 votes
4 ponkan8 410 points /183 votes
5 Mizoguchi Keiji
6 Kantoku
7 Misaki Kurehito 297 points /137 votes
8 Shirabii


Notable series
Seirei Gensouki - 13
Re Zero - 16
Goblin Slayer - 36
Classroom of the Elite - 19
No Game No Life- 23 Index - 26
Seishun Buta - 20
Irregular At Magic High School - 18
The Ryuo's Work is Never Done! is being adapted into a winter 2018 anime. It's offered in English by BookWalker, who describes it:

The Ryuo's Work is Never Done! is a story about a teenage boy named Yaichi Kuzuryu who happens to be the strongest shogi player in history, holding the top title of "Ryuo"(Dragon King). One fateful day, shogi-loving elementary student, Ai Hinatsuru, appears before him claiming that he promised to be her master. But was such a promise really ever made? Thus began their master and disciple relationship!

Originally published by SB Creative, The Ryuo's Work is Never Done! took the number one spot on the "Kono Light Novel ga Sugoi" 2017 light novel rankings. SB Creative also announced earlier this month that the animated series will air in January 2018.
86 by Shirabi and Asato is described:
For a long time this country was attacked by its neighbor, the Empire, which created a series of unmanned military vehicles called the Legion. In response to the threat, the Republic successfully completes the development of similar technology and reflects the enemy's attack, having managed to do without casualties. But this is... the official version. In fact, there were victims. Outside of 85 districts of the Republic there was actually another one. "The non-existent 86th district." It was there that day and night continued the battles in which young men and women from the detachment known as Eighty-Six participated—they fought in drones...

Sheen directs the actions of young suicide bombers while on the battlefield. Lena is a "curator" who commands a detachment from a remote rear with the help of special communication.

The farewell story of the severe and sad struggle of these two begins!
Infinite Dendrogram is offered in English by J-Novel Club:
In the year 2043, Infinite Dendrogram, the world's first successful full-dive VRMMO was released. In addition to its ability to perfectly simulate the five senses, along with its many other amazing features, the game promised to offer players a world full of infinite possibilities. Nearly two years later, soon-to-be college freshman, Reiji Mukudori, is finally able to buy a copy of the game and start playing. With some help from his experienced older brother, Shu, and his partner Embryo, Reiji embarks on an adventure into the world of Infinite Dendrogram. Just what will he discover and encounter in this game world known for its incredible realism and infinite possibilities?
Seishun Buta Yarou by Pet Girl of Sakurasou authors Hajime Kamoshjida and Keijo Mizoguchi is described:
"Hey, shall we kiss?" She who was teasing me with these seductive words temporarily disappeared before my eyes.


There could not be a bunny girl inhabiting a library. Azusagawa Sakuta faced a scene that toppled common sense—he encountered a bunny girl, and she is nowhere a normal bunny girl. She is Sakurajima Mai senpai, a student studying at the same school as Sakuta and a retired yet renowned actress. It was said that starting from a few days ago, those around her could no longer see her anymore, and she came to the library just to confirm this. Is this related to the hit topic on the internet, the unimaginable phenomenon known as "the puberty syndrome"? Sakuta, wanting to know the reasons behind and get closer to Mai, decided to solve the puzzle. However, the situation then developed in an unexpected way?


In the city surrounded by the skies and the seas, the romance story of I and she began. The brand new romantic comedy presented by the Sakurasou combo.
Remake our Life - Let's time-travel to 10 years ago and reenjoy creative and sweet youthful days
Jaku Chara Tomozaki-kun by Yuuki Yaku and Fly is described:
This is a walkthrough of life (a shitty videogame)!

Life is a bad video game. This cliche phrase is, sadly, a reality.

However, life doesn't have simple, easy rules. What it does have is irrationality and inequality. The strong say that they have a lot of freedom, but the weak have no choice but to live an overwhelmingly disadvantaged lifestyle.

Therefore, it's a shit game. There's no mistake because I, the best gamer in Japan, declare it to be shit.

—However, that person, who is on the same level as me, goes around saying "Life is a great game."

The school's perfect, strong-willed heroine, Hinami Aoi. Furthermore, "I'll teach you the rules of life (game)"?

… Normally, I wouldn't believe in those words. However, Hinami Aoi is a character that doesn't even fit in a normal frame at all!
Seirei Gensouki - Konna Sekai de Deaeta Kimi ni by Yuri Kitayama and Riv is described:
Amakawa Haruto is a young man who died before reuniting with his childhood friend who disappeared five years ago. Rio is a boy living in the slums who wants revenge for his mother who was murdered in front of him when he was five years old.

Earth and another world. Two people with completely different backgrounds and values. For some reason, the memories and personality of Haruto who should've died is resurrected in Rio's body. As the two are confused over their memories and personalities fusing together, Rio (Haruto) decide to live in this new world.

Along with Haruto's memories, Rio awakens an unknown "special power," and it seems that if he uses it well, he can live a better life. But before that, Rio encountered a kidnapping that turns out to be two princesses of the Bertram Kingdom that he lives in.

After saving the princesses, Rio is given a scholarship to the Royal Academy, a school for the rich and powerful. Being a poor orphan in a school of nobles turns out to be an extremely detestable place to be.
Honzuki no Gekokujou by Miya Kazuki and Suzuka is described:
Reino, a book-loving college student who just got her librarian certification, was just hired to be a librarian at a large university library. Just before graduating and entering the job of her dreams, she was killed by a massive earthquake crushing her underneath a pile of her own books.
Wishing for reincarnation in order to read evermore, she got reincarnated to a world with a low literacy rate and very few books, limited only to the nobility. As she reincarnated as the daughter of a lowly soldier, no matter how much she wants to read there there are no books within her reach.
If there are no books then what do you do? Why, you make them yourself, of course! Her goal is to become the librarian of her own library! In order to live a life surrounded by books, she starts by making books.
I'm A Spider, So What? by Okina Baba and Tsukasa Kiryuu is licensed by Yen Press:
I used to be a normal high school girl but in the blink of an eye, I woke up in a place I've never seen before and-and I was reborn as a spider?! How could something that's nothing more than a tiny spider (that's me) possibly survive in literally the worst dungeon ever? Are there no rules? There should be some rules! Who the hell is responsible for this? SHOW YOUR FACE!
That Time I Got Reincarnated as a Slime by Fuse is licensed by Yen Press:
Living alone and never having had a girlfriend, 37-year-old Satoru Mikami is dissatisfied with how his life has turned out. But after dying at the hands of a robber, he awakens to a fresh start in a new world...as a slime monster.
Mushoku Tensei by Rifujin na Magonote and Shirotaka is described:
A 34-year-old NEET otaku, chased out from his house by his family, found that his life is reaching a dead end. He then recalled that his life could actually have been much better if he had made better choices in the past.

Just when he was at the point of regret, he saw a truck moving at fast speed, and three high schoolers in its path. Mustering all the strength he had, he tried to save them and ended getting run over by the truck, quickly ending his life.

The next time he opened his eyes, he is reincarnated to a world of sword and magic as Rudeus Greyrat. Born to a new world, a new life, Rudeus decided that, "This time, I'll really live my life to the fullest with no regret!" Thus starts the journey of a man yearning to restart his life.
Majo no Tabitabi by Jougi Shiraishi and Azuru is described:
In a certain place, there was a traveler witch. Her name was Elaina.

Being a traveler, she came across many people and countries while continuing her long, long journey.

A country that only accepted magicians, a muscle loving giant, a youth wanting to return the lover from the grasp of death, a Princess left alone in the ruined country, and the story of witch herself up until now and from now on.

While meeting unbelievably odd people and experiencing beautiful moments of some, now, even now, the witch keeps spinning the tale of meeting and parting.

"Please don't mind it. After all, I'm a traveler. I must hurry."

The Witch.――Yes, me.
If It's for My Daughter, I'd Even Defeat a Demon Lord by CHIROLU and Kei Truffle is licensed by J-Novel Club:
Dale is a cool, composed, and highly skilled adventurer who's made quite a name for himself despite his youth. One day on a job deep in the forest, he comes across a little devil girl who's almost wasted away. Unable to just leave her there to die, Dale takes her home and becomes her adoptive father. Devil or not, Latina is beyond adorable, and the adventurer soon finds himself head over heels with being a parent. But why was she out in the forest to begin with, and why does she carry the mark of a criminal?
via tptrishula
------
Follow on Twitter at @aicnanime