Character designer so-shi illustrates trio of pillows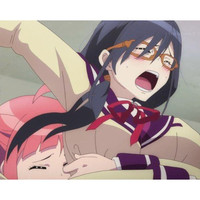 Last month, DMM Pictures announced a trio of hug pillows featuring the ladies of Anime-Gataris. At the anime, they just had the black and white version of character designer so-shi's Minoa Asagaya to preview, but Arisu Kamiigusa and Miko Kōenji were also planned. Now all three, due in January at 13,000yen each, can be seen.
Speaking of the group...
本日11月24日は、上井草アリス役の千本木彩花さんのお誕生日です
おめでとうございます(*'∇')/゚・:*【祝】*:・゚\('∇'*)#ガタリズ #アニメガタリズ #gataris pic.twitter.com/nJZAqR8mmT

— 「アニメガタリズ」公式 (@animegataris) November 24, 2017

------
Follow on Twitter at @aicnanime