Akira Amemiya (Ninja Slayer From Animation) serves as director for Trigger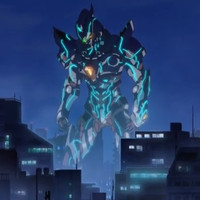 It was officially announced at the Tokyo ComiCon 2017 event today that SSSS.Gridman, an all-new TV series based on Tsuburaya Productions' 1993-1994 tokusatsu TV series Denkou Choujin Gridman, is now in the works for a premiere in the autumn of 2018. Its official website and Twitter also opened with a key visual and a teaser PV introducing the history of the series.
The original live-action series was sired for 39 episodes from April 1993 to January 1994 as Tsuburaya Productions' 30th anniversary title, then it was adapted into Super Human Samurai Syber-Squad for the American TV broadcast by DIC Entertainment in 1994-1995.
Then in 2015, an anime short inspired by the series, titled Denkou Choujin Gridman: boys invent great hero, was produced for the Japan Animator Expo. It was directed by Akira Amemiya (Ninja Slayer From Animation) and animate by Studio Trigger (Kill la KILL). The two again team up for the
new anime series in cooperation with Tsuburaya. Keiichi Hasegawa (Heisei Ultraman and Kamen
Rider series) serves as screenplay writer. The new version Gridman is designed by Tsuburaya's
Masayuki Goto (Ultraman Orb character designer).
In addition, 49-year-old Hikaru Midorikawa (Heero Yuy in Mobile Suit Gundam Wing), who voiced the
hero in the original series, is confirmed to reprise his role in the anime as well.
Teaser PV
完全新作TVアニメーション『SSSS.GRIDMAN』製作決定! https://t.co/DdpKOFBON2 ティザーPV→ https://t.co/lX2a7UHHmC #グリッドマン pic.twitter.com/xbkSVZrxds

— 円谷プロダクション (@tsuburayaprod) 2017年12月2日
東京コミコン2017「電光超人グリッドマン」ステージありがとうございました!イベントレポートは少々お待ちください!アクセス・フラッシュポーズ!村石監督、雨宮監督、小尾昌也さん(翔直人役)、グリッドマンの軌跡の4ショット!PC伊藤 #SSSS_GRIDMAN #グリッドマン https://t.co/mwvr4eX0Av pic.twitter.com/4HVrRKWsHk

— SSSS.GRIDMAN公式アカウント (@SSSS_GRIDMAN) 2017年12月2日
Source: "SSSS.Gridman" official website, Twitter