"Fullmetal Alchemist" live-action film falls into 5th place in its 2nd weekend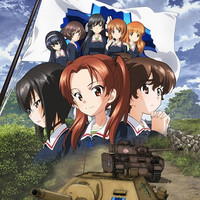 The official blog for the Girls und Panzer anime franchise has reported the opening weekend box office result for the first episode of the six-part OVA series Girls und Panzer das Finale.
The 42-minute film was released in select 59 theaters across Japan on December 9 and earned an impressive 145,981,740 yen from the 118,798 ticket sales in its first Saturday and Sunday, which was 113.6% of the first weekend gross (128,438,980 yen from 77 theaters) of the franchise's mega hit film in 2015, Girls und Panzer der Film. It ranked a very good 4th in the overall weekend box office, surpassing last weekend's top-grossing film Fullemetal Alchemist in 5th.
Despite of its cheaper ticket price of 1,200 yen (a regular adult ticket price for a film in Japan is 1,800 yen), its per-screen average was also an amazing 2,474,266 yen. Thanks to the very good opening result, 28 more theaters are scheduled to be added from January 20, 2018.
December 9 (Sat): 99,146,480 yen on 80,078 admissions
December 10 (Sun): 46,835,260 yen on 38,720 admissions
Two-day total: 145,981,740 yen on 118,798 admissions
【最終章 第1話】全国59館の限定上映/通常鑑賞料金1,200円
★2日間合計118,798人/¥145,981,740

「劇場版」の113.6%(77館/初週土日¥128,438,980)となり、本当に素晴らしい結果となりました!引き続き劇場で、本作品をお楽しみください!https://t.co/6x4cUEjaKb #garupan pic.twitter.com/2rBafrSMp7

— 「ガールズ&パンツァー」公式アカウント (@garupan) 2017年12月11日
---
Weekend box office in Japan (December 9-10, 2017)
- ticket sales basis
1 (new). "Kamen Rider Heisei Generations Final: Build & Ex-Aid with Legend Rider"
2 (new). "Destiny Kamakura Monogatari"
3 (new). "Murder on the Orient Express"
4 (new). "Girls und Panzer das Finale: 1st Episode"
5 (1). "Fullmetal Alchemist"
6 (2). "Tantei wa BAR ni Iru 3"
7 (3). "It"
8 (4). "Justice League"
9 (5). "Hibana"
10 (6). "HiGH&LOW THE MOVIE 3 FINAL MISSION"
---
"Girls und Panzer das Finale" latest CM
Full MV for the first three episodes' theme song "Grand symphony" performed by Sayaka Sasaki
Source: "Girls und Panzer" official blog, Eiga.com
©GIRLS und PANZER Finale Projekt