Consideramos justa toda forma de amor... mas amorzinho entre garotas é tudo de bom!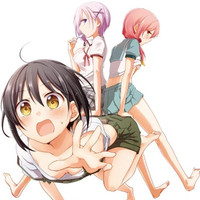 O recém inaugurado site oficial da adaptação para anime do mangá de Merryhachi Tachibanakan To Lie Angle (Tachibanakan Triangle/Love to Lie Angle) confirmou que a adaptação está em andamento e divulgou uma imagem promocional, junto com os nomes das dubladoras que irão interpretar as personagens principais.
Imagem promocional com o anúncio do anime
Elenco:
Minami Tsuda

como Hanabi Natsuno

Amisa Sakuragi

como Konomi Fujiwara

Arisa Nakada

como Iori Takamura
Rei Matsuzaki

como Yoriko Fujiwara

Mikako Komatsu

como Yuu Tsukishiro

Eri Kitamura

como Sonoa Mitsui
Sinopse:
Depois de voltar para sua cidade natal, Hanabi Natsuno está pronta para começar o ensino médio e ansiosa por estar morando em Tachibana Mansion, um luxuoso dormitório em estilo mansão. No entanto, devido a algumas complicações, ela termina em uma casa Tachibana degradada, mas viva ... e fica presa entre sua amiga de infância e uma beleza misteriosa. Esse triângulo amoroso definirá sua experiência no ensino médio?
O mangá foi lançado na revista Comic Yuri Hime da Ichijinsha em 2014 e o quinto volume de livros compilados será enviado em 18 de dezembro.
Fonte: ANN
---
FabioLuz é redator da CrunchyNotícias para a Crunchyroll.pt, além de metido a escritor de romances e Light Novels sob o pseudônimo de Isao Ooyama. É obcecado por notícias sobre número de vendas de BDs/DVDs, mangás e Light Novels no Japão. Quer saber se o seu anime vendeu bem? Pergunte a ele! Siga-o no Twitter: @FabioLuzCR