Original anime will come to Netflix this spring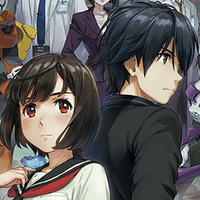 Netflix original anime A.I.C.O. Incarnation has just launched a wealth of information for potential viewers -- from a dramatic new key visual and PV to a huge cast/character list.
The upcoming original, about a girl named Aiko who discovers a terrifying truth about herself, will be directed by Kazuya Murata (Gargantia on the Verdurous Planet) and animated by Bones. Check out the newest key visual and PV:
The official site has also announced a fairly large cross-section of cast:
Aiko Tachibana (CV Haruka Shiraishi): A bright and energetic schoolgirl who lost her family in the "Burst" that ravaged her town. Upon meeting with Yuya, she discovers a painful truth about herself -- but agrees to fight with him.
Yuya Kanzaki (CV Yusuke Kobayashi): A student who transfers to Aiko's school. His personality is surprisingly mature. He's the only who breaks the news to Aiko about herself, and leads her to her destiny at the city's "Primary Point."
Yoshihiko Sagami (CV Makoto Furukawa): A member of the Divers and Kazuki's Buddy. He's an expert in all types of weaponry, from knives to heavy artillery. Nonetheless, he gives of a brotherly air of kindness.
Kazuki Minase (CV Taishi Murata): A member of the Divers and Sagami's Buddy. He doesn't have much experience as a Diver, but is willing to throw himself in his work. His specific area of expertise is electronics -- and he has a very realistic artificial hand.
Haruka Seri (CV Kaori Naduka): A member of the Divers and Kaede's Buddy. Prior to the Burst, she worked in bio-engineering, and currently has a strong interest in Malignant Matter. Unlike her buddy, Haruka is less inclined to improvise, and prefers tactical plans that make use of existing knowledge.
Kaede Misawa (CV M.A.O.): A member of the Divers and Seri's Boddy. Kaede is a much more spur-of-the-moment type, who not only prefers to strike first, but also has a keen animal instinct that allows her to do so successfully. There may also be something going on between her and Sagami.
Daisuke Shinoyama (CV Ryota Takeuchi): The leader of the Divers and Shiraishi's Buddy. While he may seem stern at first, he's actually very warm and kindhearted under the surface. He helps Aiko and Yuya in their quest, giving them access to whatever help the Divers may be able to give.
Maho Shiraishi (CV Ai Kayano): A member of the Divers and Shinoyama's Buddy. A kind and gentle person, who helps the Divers in making arrangements and acquiring food. She's also there to comfort Aiko during their adventure.
Susumu Kurose (CV Toru Okawa): A biotech developer behind the creation of artificial bodies -- his contribution is the "Cell Assembler." He suppors Aiko and Yuya from a distance.
Kyousuke Isazu (CV Takehito Koyasu): Aiko's doctor and the creator of the "Carbon Nano Structure." His daughter is in a coma, but he is unable to find a treatment for her.
Akiko Nanbara (CV Atsuko Tanaka): Director of the CAAC, an organization which seeks to work against artifical bio-contamination. She is a central figure in the promotion of bio-tech.
A.I.C.O. Incarnation premieres March 9 on Netflix.
>> A.I.C.O. Incarnation Website
Source: MoCa-News
-----
Kara Dennison is responsible for multiple webcomics, blogs and runs interviews for (Re)Generation Who and PotterVerse, and is half the creative team behind the OEL light novel series Owl's Flower. She blogs at karadennison.com and tweets @RubyCosmos. Her latest stories can be found in Whoblique Strategies.