Shin Katagai (Yuruyuri) dirige l'anime per Yumeta Company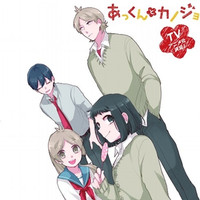 Il sito ufficiale e il Twitter della serie TV Akkun to Kanojo (Akkun e la sua ragazza), tratta dal manga omonimo di Waka Kakitsubata, ha pubblicato una prima visual con i personaggi principali e ha annunciato lo staff. Il manga originale è serializzato su Comic Gene di Kadokawa da giugno 2013 e ha raggiunto i sette volumi monografici. È pubblicato anche su pixiv ed è stato letto oltre 2,5 milioni di volte.
Dirige la serie per Yumeta Company Shin Katagai, che ha lavorato a Yuruyuri, su composizione serie di Yuka Yamada (Miss Kobayashi's Dragon Maid) e character design di Motohiro Taniguchi (Yuruyuri). Non si sa ancora quando andrà in onda.
È la storia della strana relazione tra Atsuhiro "Akkun" Kagari e la sua ragazza Non "Nontan" Katagiri. Anche se ama davvero Nontan dal profondo del cuore (addirittura la segue di nascosto), Akkun è sempre freddo con lei, che invece lo ama e non si cura della sua crudeltà.
TVアニメ化決定の『あっくんとカノジョ』。公式ツイッターがオープンしましたよー!こちらぜひぜひフォローしてくださいね☆ 推奨ハッシュタグは #あっカノ です☆ また公式サイトもオープンしました! https://t.co/nRxEzcL7NE pic.twitter.com/in8Bgpj5Zq

— TVアニメ『あっくんとカノジョ』公式 (@akkano_anime) 2018年1月15日
Copertine del manga, volumi 1 e 7
Fonte: Sito ufficiale della serie "Akkun to Kanojo", TWitter
©Waka Kakitsubata, KADOKAWA/Akkano Production Committee
Notizia originale di Mikikazu Komatsu.