L'opera vincitrice sarà pubblicata su Comic Walker e Nico Nico Manga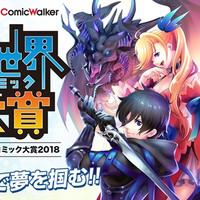 "Isekai (mondo alternativo)" è un tema molto popolare in manga, anime, videogiochi e romanzi. La storia spesso racconta di un protagonista trasportato in un altro mondo per evocazione o reincarnazione. Negli ultimi anni sono moltissime le serie su questo tema.
Vista la popolarità del genere, i siti di web manga Comic Walker di Kadokawa e Nico Nico Manga di Dwango hanno indetto il concorso "Isekai Comic Taisho" dedicato esclusivamente a manga su questo tema e l'opera vincitrice sarà serializzata su entrambi i servizi a partire da luglio 2018. Il primo premio in denaro ammonta a 500.000 yen (circa €3.686,67) ed è prevista la pubblicazione in volume monografico di tutte i manga vincitori.
La storia deve essere ambientata in un mondo alternativo in cui il protagonista viene trasportato o reincarnato. Va bene anche l'opposto: protagonista di un altro mondo trasportato nel mondo reale. Saranno accettati tutti i generi (serio, commedia, gag, romantico, ecc) e il mondo alternativo deve avere qualche legame con quello reale (ad esempio una storia "high fantasy" non sarà accettata). L'opera dovrà avere almeno 16 pagine e un massimo di 80. Sarà possibile inviare il proprio lavoro tramite Nico Nico Manga dal 1° febbraio al 6 marzo 2018.
Visual del concorso realizzata dall'illustratore di The Rising of the Shield Hero Aiya Kyu
Fonte: Comunicato stampa Kadokawa
Notizia originale di Mikikazu Komatsu.