40mP's original version was released in January 2012 and has been viewed 1.5 million times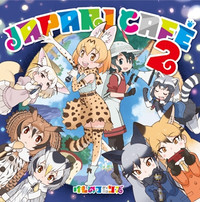 The Kemono Friends franchise's official YouTube channel today posted a three-minute music video for "DoReMiFa Rondo: Friends ver." performed by Doubutsu Biscuits+KabanxPPP, which was included in the franchise's second character song album "Japari Café2" released in December 2017. Six "Friends" characters: Asian small-clawed otter (Reina Kondo), Northern white-faced owl (Shiori Mikami), Eurasian eagle-owl (Akari Uehara), Margay (Mami Yamashita), Silver Fox (Yuka Aisaka), and Ezo red fox (Suzuko Mimori) also joined the recording to add their dialogues.
The original version of "DoReMiFa Rondo" was written/composed/arranged by 40mP for vocaloid Hatsune Miku in January 2012. Its original music video has been viewed over 1.5 million time on Nico Nico Douga in six years. The "Friends ver." music video is produced by Tama, who worked on the original MV.
"DoReMiFa Rondo: Friends ver." music video
"DoReMiFa Rondo" original MV
---
"Japari Café2" CD jacket illustration
All-song preview
via: "Kemono Friends" official YouTube channel
© Kemono Friend Project