90 theaters across Japan will start screening the award-winning film this Saturday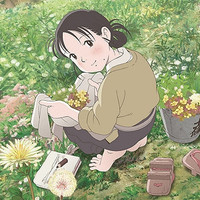 Hiroshima-based company Johakyu had been screening the anime film Kono Sekai no Katasumi ni/In This Corner of the World in its two theaters in Naku-ku, Hiroshima-city, Salon Cinema and Hacchoza, since its premiere on November 12, 2016. The two theaters finally ended the film's screening on its 441st day on Friday. Their total ticket sales was 42,195, which was the highest record for the company. 125 people gathered for the final screening on the Friday night.
The main story of the film is set in Hiroshima before and during World War II. The Hacchoza theater is located in the Fukuya Hacchobori department store, and the old department store and its around before it was destroyed by the atomic bomb dropped by the U.S. appears in the film. So many fans from all over Japan, even from Europe, have visited theater as part of the "Seichi-junrei (holy place pilgrimage) tour. Director Katabuchi did greeting from the stage seven times so far.
Katabuchi posted his message on Twitter:
"I visited the Hacchouza theater in 2011 soon after it opened and said like, 'I'll do my best to screen my
film here.' What a surprise that the film has been screened for 441 days, along with on Salon Cinema
across the street. I also appreciate for the people who have filled the seats through the period."
2011年にまだ出来て間もない八丁座を訪れて「ここで上映してもらえるようがんばります」などといっていたのだけれど、道を挟んだサロンシネマも含めて441日間も上映していただけることになろうとは。この期間を通じて席を埋めてくださった皆さんにも感謝いたします。

— 片渕須直 (@katabuchi_sunao) 2018年1月25日
「ここでなら、いつでもすずさんに会えた」──。広島市の映画館で441日という異例のロングラン上映となった「#この世界の片隅に」がフィナーレを迎えました。https://t.co/dCAH2KlK7s

— 毎日新聞 (@mainichi) 2018年1月28日
Production company Genco and fans sent the flowers to the Hacchoza theater on the final day.
足掛け3年にわたり上映して参りました「この世界の片隅に」がついに最終週を迎えました。1月26日(金)の千秋楽まで、19:05のみの上映です。製作会社のジェンコさんとファンの皆様からお花を頂きました。ありがとうございます。 pic.twitter.com/M4E3OnzZfm

— 八丁座 (@hatchoza) 2018年1月20日
---
This is not the end of the film's long theatrical run in Japan yet. As reported, Aeon Entertainment will start
showing the film in its Aeon cinema complex's 90 theaters across Japan, including one in Hiroshima, from
February 3. The newly-produced 2018 calender ( starting from April) will be sold at the Aeon theaters.
「この世界の片隅に」2018年カレンダー(4月始まりver)が、イオンシネマの上映劇場にて販売決定!
(2/3~販売予定 ※一部販売日が異なる劇場あり)
詳細は各劇場へお問い合わせください。https://t.co/UjONGABxHj pic.twitter.com/rm4ih78AGk

— 『この世界の片隅に』ロングラン上映中! (@konosekai_movie) 2018年1月26日
via: Mainichi Shimbun
© Fumiyo Kouno, Futabasha/"Kono Sekai no Katasumi ni" Production Committee