"I am really glad to play Tsukiyama again."(Miyano) / "I am thankful for this opportunity." (Kobayashi)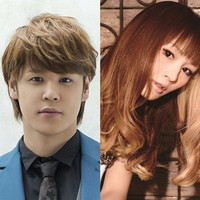 The official Japanese website for the upcoming TV anime adaptation of Sui Ishida's Tokyo Ghoul:re dark fantasy manga series announced two additional voice cast today: Mamoru Miyano (Light Yagami in Death Note) as Shu Tsukiyama and Yu Kobayashi (Sasha Braus in Attack on Titan) as Kanae von Rosewald. Miyano already played the character in the first TV anime Tokyo Ghoul in 2014 and the second season Tokyo Ghoul √A in 2015. Read their messages below.
---
Miyano: "I am really glad to play Tsukiyama again. I myself was so happy to meet Tsukiyma-san and to have many feelings together. And I also met with an enormous response from the people who watched the series. I have already read the following story of the manga, I am so excited now because I have found many scenes I want to play. I'll do my best with my whole heart to bring joys to everyone. We would gladly accept all your support!"
---
Kobayashi: "Since when I read the manga, I have been fascinated by Kanae von Rosewald-san's way
of life, character, and complex and deep emotions, which made me so heartbroken. I was impressed by
her attitude to keep fighting with her emotional conflict inside and to protect her precious things. So I
am very thankful for this opportunity to play Kanae-san. At the same time, it makes me feel very tense
and uptight. I'll try my best to portray the character. So please support us."
---
Tokyo Ghoul:re, the second main series of Ishida's Tokyo Ghoul manga series has been serialized in
Sueisha's Weekly Young Jump since October 2014. It has released 14 tankobon volumes so far and
has become one of the top-selling manga series in Japan. The highly anticipated adaptation is animated
by Studio Pierrot in cooperation with Studio Pierrot+ and directed by Toshinori Watanabe (Naruto
Shippuden) for an April 2018 premiere in Japan.
1st key visual
1st PV
Main voice cast:
Haise Sasaki/Natsuki Hanae (Ken Kaneki in Tokyo Ghoul)
Kuki Urie/Kaito Ishikawa (Tobio Kageyama in Haikyu!!)
Ginshi Shirazu/Yuuma Uchida (Hayate Immelmann in Macross Delta)
Toru Mutsuki/Natsumi Fujiwara (Rei Kisaki in Aikatsu Stars!)
Saiko Yonebayashi/Ayane Sakura (Cocoa in Is This Order a Rabbit?)
Main staff:
Director: Toshinori Watanabe (Naruto Shippuden)
Screenplay/Series Composition: Chuji Mikasano (Tokyo Ghoul)
Character Designer: Atsuko Nakajima (You're Under Arrest, Hakiouki)
Anime Production: Pierrot (Naruto, Bleach)
Anime Production Cooperation: Pierrot+ (Re-kan!, The Morose Mononokean)
Source: Marvelous press release
©Sui Ishida/Shueisha, Tokyo Ghoul:re Production Committee