Vocaloid producer DECO*27 provides the theme song "Mega Megasukashion"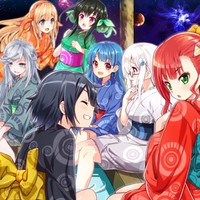 The official website for Osaka-based pharmaceutical company Santen Pharmaceutical's "EEYDROPS" promotional web anime project today released the first part of its new two-part series "Osoikuru Shikyaku, Kakumaku Daikessen!" (An attacking assassinator, the cornea final battle!). In addition to the previous ten voiced by popular voice actresses, the new episode introduces two new ones, flavin adenine dinucleotide sodium by Miyuki Sawashiro (Fujiko Mine in Lupin The third) and a new villain Baron Menidamage by Kazuya Nakai (Roronoa Zoro in One Piece). The second episode is set to be posted later this month.
The project featuring 10 (now 11) characters who represent the active ingredients included in eye drops was launched with four episodes to promote the company's eye drops products in September 2016. The story of the web anime series is set in a fictional planet named "EYE" a few billion light years away from Earth. While the 11 girls fight to keep the planet's health, viewers can also learn the
mechanism of eyes and the importance of eye care.
"Osoikuru Shikyaku, Kakumaku Daikessen!" 1st episode
Main Visual
Flavin adenine dinucleotide sodium (CV: Miyuki Sawashiro)
Baron Menidamage (Kazuya Nakai)
Theme song "Mega Megasukashion" MV by Emiri Kato (vitamin B12)
---
Taurine (CV: Eri Kitamura)
Neostigmine methylsulfate (Yoko Hikasa)
Vitamin B6 (Mamiko Noto)
Vitamin B12 (Emiri Kato)
Potassium L‐aspartate (Risa Hayamizu)
Tetrahydrozoline hydrochloride (Yu Kobayashi)
Chlorpheniramine maleate (Yuka Iguchi)
Epsilon-aminocaproic acid (Sumire Uesaka)
Sodium chondroitin sulfate (Sakura Tange)
Dipotassium glycyrrhizinate (Asumi Kana)
Source: Santen Pharmaceutical press release
Copyright © 2018 Santen Pharmaceutical Co.,Ltd