His latest serialization work "Souboutei Kowasubeshi's" next 8th volume hits stores April 18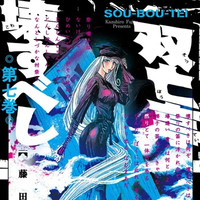 It was announced today in this year's latest 15th issue of Weekly Shonen Sunday (Shogakukan) that 53-year-old manga artist Kazuhiro Fujita will have a "super important announcement" in the magazine's next 16th issue to be released on March 14. The teaser announcement in the current issue says, "Again in 2018, Kazuhiro Fujita will shock you!!!" Fujita's official Twitter has posted no comments on this news so far.
Fujita has been working for the magazine since the beginning of his professional career, including Ushio to Tora/Ushio and Tora (1990-1996), Karakuri Circus (1997-2006) and Gekkou Jyourei/Moonlight Act (2008-2014). His latest work Souboutei Kowasubeshi/Souboutei must be Destroyed has been serialized since March 2016 and its next 8th tamkobon volume hits stores April 18. The shonen horror action manga is confirmed to be featured on the next issue's cover and opening color pages.
藤田和日郎に関する"超重大発表"が次号サンデーに https://t.co/p9riSwEH31 pic.twitter.com/eTuvBZOzUc

— コミックナタリー (@comic_natalie) 2018年3月6日
"Souboutei Kowasubeshi" 1st and 7th volume covers
PV for the manga "Souboutei Kowasubeshi" posted its serialization started in March 2016
via: Comic Natalie
© Kazuhiro Fujita/Shogakukan