Masakazu Katsura's manga arts and the TV drama costumes will be also displayed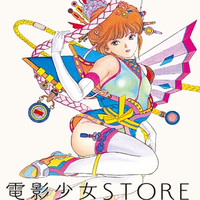 While the TV drama sequel "Denei Shoujo ~VIDEO GIRL AI 2018~," is reaching its climax, arma bianca, a Tokyo-based company that owns anime character goods online store AMNIBUS, will hold "Video Girl Store," a time-limited event dedicated to Masakazu Katsura's sci-fi fantasy love story manga series Denei Shoujo/Video Girl Ai that has had printed over 14 million copies in Japan, at Kinokuniya Shoten's Seibu Ikebukuro store in Tokyo from March 20 to April 9.
During the event period, pre-sales of many Video Girl goods will be held at the venue. In addition, Masakazu Katsura's illustrations and copied manga arts from the series mainly used for the goods will be displayed, as well as the costumes of Video Girl Ai Amano from the ongoing TV drama.
Event visual
Purchasers at the store in the venue will get a limited postcard, one for over 2,160 yen purchase.
Pre-sale "Video Girl" goods lineup:
[AMNIBUS]
[Natalie Store]
"Video Girl Ai" manga arts
A scene from the TV drama
DVD/Blu-ray of the TV drama is set to be released on October 3
Source: arma bianca press release
© Masakau Katsura/Shueisha