Gonzo-animated RV series confirms its two-cour run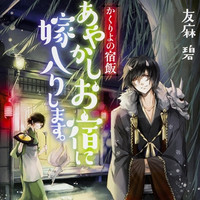 An advance screening event for the first two episodes of the upcoming TV anime adaptation of Midori Yuuma's cooking-themed fantasy light novel series Kakuriyo Yadomeshi (Afterlife Inn Cooking) was held at the Shinjuku Wald 9 theater in Tokyo yesterday on March 16. It was announced at the event that, in addition to the TV anime, a stage play based on the novel is also planned. More details including its schedule and cast will be announced ata later date.
【緊急告知!】なんと、「かくりよの宿飯」が早くも舞台化決定です!!詳細は随時公式サイトなどで発表していきますので、お楽しみに!#かくりよの宿飯 pic.twitter.com/7hbwH4N9Oc

— 「かくりよの宿飯」TVアニメ公式 (@kakuriyo_anime) 2018年3月16日
(from the left)
Manami Numakura (ED singer), Ai Kakuma (Oryo), Katsuyuki Konishi (Oodanna), Nao Toyama (Aoi Tsubaki /OP singer),
Shun'ichi Toki (Ginji), Yuma Uchida (Akatsuki)
Nao Toyama in kimono costume performed the OP song "Touka no Manimani" on the stage
CD single jacket photos (May 30 release)
「かくりよの宿飯」先行上映会ありがとうございました!映画館で歌うのは初めてで、女の子さんもたくさんいらっしゃる中なのも新鮮でした!皆さん、手拍子やにこにこ聴いてくださってありがとう!!
私の歌う「灯火のまにまに」は5月30日(水)発売です!アニメとあわせてお楽しみに☆(東山奈央) pic.twitter.com/4NGLKQ7yH1

— 東山奈央 オフィシャル (@naobou_official) 2018年3月16日
Manami Numakura sang the ED theme "Sai -color-"
CD single jacket photos (June 6 release)
TVアニメ「かくりよの宿飯」EDテーマ「彩-colors-」の発売日が6/6に決定!初回限定盤は「彩-color-」のMusic VideoとMaiking Movieを収録したDVD付き!全3曲+各曲のInstrumental verを収録!ジャケット写真も公開!左が初回限定盤です!(宣伝すー) #nu_nu_nu pic.twitter.com/9lbn7jMpI7

— 沼倉愛美(公式) (@numakura_manami) 2018年3月16日
---
The adaptation animated by Gonzo is set to premiere on Tokyo MX on April 2. It was also confirmed at the
event that it will be a two-cour series.
Key visual
【最新情報①】公式サイト本オープン!放送情報&キービジュアルを公開!4月よりTOKYO MX、BSフジほかで放送開始です!
公式HP⇒https://t.co/BmKoH1Gkx5#かくりよの宿飯 pic.twitter.com/PAAywJIzQX

— 「かくりよの宿飯」TVアニメ公式 (@kakuriyo_anime) 2018年1月25日
PV
Novel and manga 1st volume covers
Source: Happinet press release
(C)2018 Midori Yuuma, Laruha/KADOKAWA/"Kakuriyo no Yadomeshi" Production Committee