TV anime adaptation is set to premiere in Japan this summer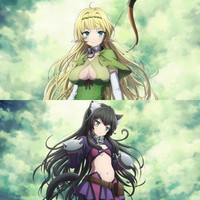 The official website and Twitter for the upcoming TV anime adaptation of Yukiya Murasaki's love comedy fantasy light novel series Isekai Maou to Shoukan Shoujo Dorei Majutsu/How NOT to Summon a Demon Lord posted anime version visuals of its two main heroines: Shera L Greenwood and Rem Galleu today. It is also confirmed that the TV anime is set to premiere in Japan this summer.
The novel series with illustrations by Takahiro Tsurusaki (Love Gene!, D Sword of Legend) has been published from Kodansha's Lanove Bunko imprint since December 2014. So far it has nine volumes and has printed over one million copies in Japan.
Shera L Greenwood
シェラ・L・グリーンウッド

NEXT⇒17:00https://t.co/WR6LMF5EjH#異世界魔王 pic.twitter.com/hcnqNEjIpr

— ​アニメ「異世界魔王と召喚少女の奴隷魔術」公式 (@isekaimaou) 2018年3月21日
Rem Galleu
レム・ガレウ

NEXT⇒19:00https://t.co/WR6LMEO3s9#異世界魔王 pic.twitter.com/qYqIWx4jTh

— ​アニメ「異世界魔王と召喚少女の奴隷魔術」公式 (@isekaimaou) 2018年3月21日
---
The novel's English edition was licensed by J-Novel Club in October 2017. Its first e-book was
released in November 2017, then the second volume followed in February 2018. The publisher
introduces the story as below:
In the MMORPG Cross Reverie, Takuma Sakamoto is so powerful that he is lauded as the "Demon Lord"
by other players. One day, he is summoned to a world outside his own-- but with the same appearance
he had in the game! There, he meets two girls who both proclaim themselves to be his Summoner. They
perform an Enslavement Ritual to turn him into their Summon... but that's when Takuma's passive ability
Magic Reflection activates! Instead, it is the girls who become enslaved! Though Takuma may be the
strongest Sorcerer there is, he has no idea how to talk with other people. It is here he makes his choice:
to act based on his persona from the game! "Amazing? But of course... I am Diablo, the being known and
feared as the Demon Lord!" So begins a tale of adventure with an earth-shakingly powerful Demon Lord
(or at least someone who acts like one) taking on another world!
Novel English edition 1st and 2nd volume covers
Source: TV anime "How NOT to Summon a Demon Lord" official website, Twitter
©Yukiya Murasaki, Kodansha/Ieakai Maou Production Commttee