Shinnosuke Tachibana and Jun Fukuyama aim to foster new talent and nurture innovation in a fast-moving industry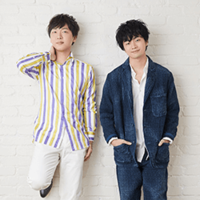 この度、私、福山潤は立花慎之介と共に新会社BLACKSHIP株式会社を開業する運びとなりました。
変わる事なく愛する声優業とより真摯に向き合い、皆様に楽しい事を届けられる様笑って出航致します!#blackship #福山潤 #立花慎之介 pic.twitter.com/BsXpj2t3cd

— blackship_staff (@blackship_staff) April 2, 2018
As of March 31, 2018, voice actors Shinnosuke Tachibana (Seido Takizawa in Tokyo Ghoul) and Jun Fukuyama (King in The Seven Deadly Sins) have left their previous representation with Axl One and formed a new company entitled BLACK SHIP Inc. that will focus on fostering new talent and nurturing innovation in the fast-paced and highly competitive industry of voice acting.
どうも!立花慎之介です!!この4月より、福山潤と共にBLACK SHIP株式会社を開業することとなりました。
声優業と経営業。この二つを載せたBLACK SHIP号は笑顔と楽しさを満載にして出航いたします☆#blackship #立花慎之介 #福山潤 pic.twitter.com/ZBFTmv6Ryx

— blackship_staff (@blackship_staff) April 2, 2018
Tachibana and Fukuyama both serve as representative directors and chief executive officers for the new company, which is based in Shibuya Ward, Tokyo, Japan. By working with both artists and clients, BLACK SHIP Inc. aims to provide training and management for voice actors and narrators and also to provide casting and production assistance for productions.
Sources:
Official BLACK SHIP Inc. home page
---
Paul Chapman is the host of The Greatest Movie EVER! Podcast and GME! Anime Fun Time.