Blu-ray box set is also planned to be released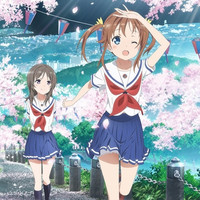 The official Japanese website for the High School Fleet anime franchise announced today on April 7 that an all new anime feature film is now in the works. The sci-fi military TV anime was aired for 12 episodes from April to June of 2016, then two-episode OVA was released in May 2017. More details of the film will be revealed at a later date.
In addition, the site also confirmed that the anime's Blu-ray box set is planned to be released. Its sound will be upgraded to 5.1ch, which will be the first time for the High School Fleet anime. No information on its content is currently available, but the fans expect that it will include all the 12 episodes of the TV anime and two of the OVA.
The 12-episode TV anime has been available on Crunchyroll to its members in North America, Central America, South America, UK, Ireland, Australia, and New Zealand.
TV anime story:
Living by the sea, protecting the sea, and journeying across the sea…They're the BLUE MERMAIDS!
Because of a shift in tectonic plates around 100 years ago, Japan lost much of its area to submergence.
To preserve Japan's territories, Coastal Cities sprung up, one after the other. Eventually, they became
Marine Cities, and along with the expansion of sea-lanes to connect them, the need arose for a sizable
staff to protect the seas. At the same time, maritime jobs were becoming more popular among women.
Hence, the BLUE MERMAIDS, tasked with keeping the seas safe, had become every female student's
dream job. This is when childhood friends Akeno Misaki and Moeka China enroll in a marine high school
in Yokosuka, along with other girls who share their goal of "BECOMING A BLUE MERMAID."
TV anime key visual
Source: "High School Fleet" anime Japanese official website, Aniplex press release
©AIS /Maritime Safety Support Department