Two of the members, Nanami Atsugi and Koko Hayashi are also voicing the main characters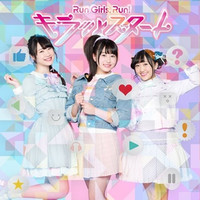 On the well-received premiere day of Kiratto Pri☆Chan, the latest installment of the idol-themed "Pretty" anime franchise, avex posted a two-minute music video for its OP theme song "Kiratto Start" performed three-member voice actress idol unit Run Girls, Run!. In addition to their cute dance performance, the members also enjoy their Harajuku visit in the clip.
The unit was formed by the three winners of the third Anison Vocal Audition co-held by avex pictures and 81 Produce in December 2016: Nanami Atsugi, Koko Hayashi, and Yuuka Morishima. They made their debut in the TV anime Wake Up, Girls! New Chapter in October 2017, playng the anime characters of the unit with the same name. "Kiratto Start" is their second anime theme song following "Slide Ride" (Death March to the Parallel World Rhapsody OP), and its CD single is set to be released on May 2. Two of its members, Koko Hayashi and Nanami Atsugi are also voicing Mirai Momoyama and Rinka Aoba in the anime, respectively.
"Kiratto Start" short MV
CD jacket
【キラッとプリ☆チャン 第1話ご覧頂いた皆さまありがとうございました】
主題歌「キラッとスタート」のMVshort版を公開しました。https://t.co/KxpMg99S7a​
3人のキラキラしたMV、ぜひご覧になってみてくださいね!#prichan#RGR_JP pic.twitter.com/tDJiUtRHH6

— Run Girls, Run!公式 (@rgr_official_) 2018年4月8日
---
As reported, Run Girls, Run! also perform "Prima☆donna? Memorial!," the theme song for the upcoming
film Movie PriPara & Kiratto Pri☆Chan ~KiraKira Memorial Live~ to be released on May 5, 2018. You can
check the song in the 60-second trailer below.
Source: Run Girls, Run! official website
© avex
© T-ARTS/syn Sophia/TV Tokyo/PCH Production Committee