The latest TV anime "Full Metal Panic! Invisible Victory" is now available on Crunchyroll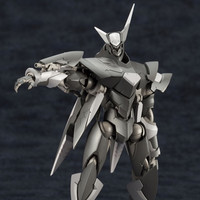 Japanese toy/figure manufacture Kotobukiya today revealed its new 1/60 scale plastic model of "Plan-1055 Belial," Leonard Testarossa's personal Arm Slave in Shoji Gatoh's Full Metal Panic! light novel series, for a September 2018 release in Japan.
The 150 mm-tall item faithfully reproduces the original design of the "world's strongest AS" by the Full Metal Panic! anime mecha designer Kanetake Ebikawa, and even includes expansion gimmicks of the binders on both sides, which existed only in the design and never used in the story. The price for the set also including its iconic weapon Aizaian Bone Bow is 7,344 yen (about 67 US dollars).
---
Full Metal Panic! Invisible Victory, the latest fourth TV anime adaptation of the light novel series premiered
in Japan on April 13, and has also been available to Crunchyroll members.
Source: Kotobukiya press release
©Shoji Gatoh, Shikidouji/KADOKAWA/FMP!4