The five-member band will perform at the "BanG Dream! 5th☆LIVE" concert this Sunday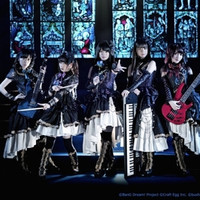 It has been confirmed that five-member voice actress band Roselia's first album "Anfang" now ranks No.1 both in Oricon's weekly digital album chart (5,510 DL) and Apple's iTunes album chart. Roselia is one of the two main girls bands in the BanG Dream! media mix project, and the 12-song album was released in Japan on May 2. Meanwhile, its CD sold 25,000 copies in its first week, ranking second in Oricon's weekly CD sale chart, which is the highest position in their career.
The BanG! Dream project was launched by Bushiroad in January 2015, and has offered several manga series, novels, TV anime BanG Dream, and rhythm/adventure game for smartphone BanG Dream! Girls Band Party!. Roselia was formed as the second real band from the franchise following Poppin'Party and released their debut single "BLACK OUT" in April 2017. They have released five singles so far and "Anfang" includes all of the single songs, in addition to two newly-recorded songs.
Roselia
Roselia members:
Aina Aiba (vocal/the voice of Yukina Minato)
Haruka Kudo (guitar/the voice of Sayo Hikawa)
Yurika Endoh (bass/the voice of Risa Imai)
Megu Sakuragawa (drums/the voice of Ako Udagawa)
Satomi Akesaka (keyboards/the voice of Rinko Shirokane)
Character visuals for "BanG Dream! Girls Band Party"
"Anfang" limited edition
"Anfang" regular edition
CM for the album
All-song preview
---
1st single "BLACK SHOUT" (April 19, 2017 release)
CM
Live
2nd single "Re:birth day" (June 28, 2017 release)
CM
Live
3rd single "Netsuiro Starmine" (August 30, 2017 release)
CM
Live
4th single "ONENESS" (November 29, 2017 release)
CM
Live
5th single "Opera of the wasteland" (March 21, 2018 release)
CM
Preview
Source: Bushiroad press release, Oricon News
©BanG Dream! Project
©Craft Egg Inc.
©bushiroad All Rights Reserved.