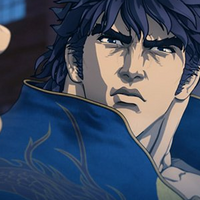 El anime Fist of the Blue Sky Regenesis (Souten no Ken Regenesis), basado en el manga de Buronson, Nobuhiko Horie y Tetsuo Hara, finalizaba esta semana con su episodio 12 y un mensaje que indicaba que habrá segunda temporada, algo que realmente ya estaba confirmado, puesto que la serie se anunciaba como de 24 episodios inicialmente. Esta segunda temporada se ha confirmado ahora con estreno para el próximo mes de octubre.
Souten no Ken es una precuela del conocido manga Hokuto no Ken, obra de Buronson y Nobuhiko Horie con dibujo de Tetsuo Hara. Se lanzó en la Weekly Comic Bunch de Shinchosha en mayo de 2001, donde se publicó hasta el cierre de la revista en agosto de 2010 y en total se recopiló en un total de 22 tomos.
El anime se estrenaba el pasado 10 de abril.