Pour la version Switch !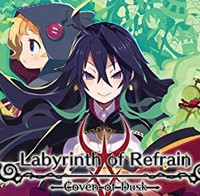 Nippon Ichi Software a mis en ligne sur sa chaîne YouTube une vidéo promotionnelle pour la version Nintendo Switch de Labyrinth of Refrain: Coven of Dusk. Cette dernière sera disponible à la vente à partir du 27 septembre prochain au Japon. En Europe, il sera possible de se procurer le jeu de type RPG dès le 21 septembre sur PlayStation 4, Nintendo Switch et PC via Steam.
Dans la petite ville Refrain d'apparence paisible se trouve un étrange labyrinthe, qui renferme de multiples trésors, mais aussi de nombreux dangers. Rejoignez la sorcière Dronya et ses poupées afin de l'explorer.
Source : ANN