Their debut album "Anfang" ranked No.1 in Oricon's weekly digital album chart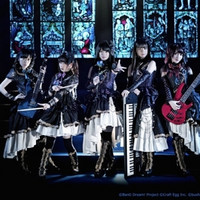 The BanG Dream! media mix project announced in April that 30-year-old voice actress Satomi Akesaka, who had performed as the original keyboardist of one of its girls bands, Roselia, would be forced to leave the band and the role of Rinko Shirakane due to sensorineural hearing loss in September. Her last appearance as the member of the project is scehduled to be at "Roselia Fan Meeting 2018" at Culttzz Kawasaki in Kanagawa on September 17.
The project has decided to hold an open audition for her replacement who can play keyboards in the band and voice the character in the upcoming anime and games. Participants must be in age of 13 to 20s and have piano or keyboards performance experiences. It opens for both professionals who already have an agency contract and amateurs. Entries will be accepted until August 13. After the application screening, a practical examination will be held in Tokyo in early September.
Roselia
Roselia current members:
Aina Aiba (vocal/the voice of Yukina Minato)
Haruka Kudo (guitar/the voice of Sayo Hikawa)
Yurika Endoh (bass/the voice of Risa Imai)
Megu Sakuragawa (drums/the voice of Ako Udagawa)
Satomi Akesaka (keyboards/the voice of Rinko Shirokane)
Character visuals for "BanG Dream! Girls Band Party"
---
Roselia was formed as the second real band from the BangG!Dream franchise following Poppin'Party.
The band's first album "Anfang" was released in May 2018 and ranked No.1 both in Oricon's weekly
digital album chart (5,510 DL) and Apple's iTunes album chart.
1st single "BLACK SHOUT" (April 19, 2017 release)
2nd single "Re:birth day" (June 28, 2017 release)
3rd single "Netsuiro Starmine" (August 30, 2017 release)
4th single "ONENESS" (November 29, 2017 release)
Source: Bushiroad press release
©BanG Dream! Project
©Craft Egg Inc.
©bushiroad All Rights Reserved.