Il gioco uscirà in Giappone in autunno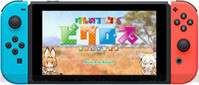 La divisione videogiochi della compagnia Jupiter ha annunciato, sabato, che il franchise Kemono Friends si arricchirà di un gioco Picross. Il gioco sarà lanciato sul mercato digitalmente per soli 1,080 yen (circa 9.75 dollari).
Il gioco include 300 rompicapo dai passati giochi Picross e Mega Picross. Mentre i giocatori risolvono i puzzles, possono incontrare i personaggi della serie. Il gioco possiede anche una funzione assistente e un tutorial che fanno si che anche chi non avesse mai giocato a questo genere di giochi impari a farlo. Il gioco include anche una modalità galleria in cui i giocatori possono sbloccare immagini atraverso il gioco.
La band Dōbutsu Biscuits contribuirà con il brano "Happy Biscuit" dal loro album principale Safari Drive, come apertura del gioco.L'album sarà venduto dal 4 ottobre.
Il franchise Picross Game si basa su rompicapo logici. È iniziato circa 20 anni fa è ha visto versioni per molte console come Game Boy, Nintendo DS, Nintendo 3DS e Nintendo Switch. Ha avuto anche crossover con altri franchise come Super Mario Bros., Pokémon e The Legend of Zelda, ma anche i personaggi della Sanrio.
Il gioco ufficiale su cellulare di Kemono Friends della Nexon ha fatto il suo esordio nel 2016 per poi concludere il servizio a dicembre, poco prima del lancio dell'anime. La serie da 12 episodi ha poi fatto il suo debutto su TV Tokyo e TV Osaka nel gennaio 2017, per poi terminare nel marzo 2017. Crunchyroll ha trasmesso la serie in contemporanea col Giappone.
La seconda stagione dell'anime è in corso d'opera. Lo staff della prima stagione non è coinvolto nella produzione.
Il franchise ha ispirato varie app come spettacoli teatrali.
Fonte: Dengeki Online
Notizia originale di Crystalyn Hodgkins su AnimeNewsNetwork