On se revoit bientôt !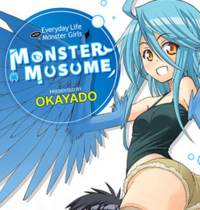 Okayado, l'auteur de Monster Musume, a annoncé sur Twitter ce vendredi qu'il prendrait une pause dans ses activités professionnelles afin de se reposer et prendre soin de sa santé mentale. Bien qu'il n'ait pas annoncé de date de retour, on ne peut qu'espérer son prompt rétablissement !
Monster Musume est publié au Japon depuis 2012 et compte déjà 14 tomes au Japon. En France, la série est éditée chez Ototo. Elle a fait l'objet d'une adaptation animée de 12 épisodes produits par le studio Lerche (Classroom of the Elite, Kino's Journey), qui sont toujours disponibles en VOSTFR sur Crunchyroll.
Synopsis : Kimihito Kurusu, un adolescent ordinaire, est choisi par le gouvernement pour faire partie d'un étrange programme d'échange. Il doit accueillir chez lui Miia, une fille mi-humaine mi-serpent, et faire en sorte qu'elle s'intègre bien dans la société. En outre, Miia est plutôt sexy, mais il lui est absolument interdit de se reproduire ! Et la situation ne va pas s'arranger quand débarquent également chez Kimihito une jeune créature harpie et une centaure...