Advance sale of the tickets will begin on the play's official website tomorrow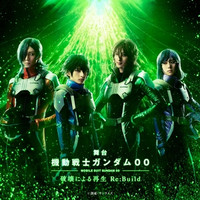 The official website for the upcoming stage play adaptation of Sunrise's Mobile Suit Gundam 00 anime series, titled "Mobile Suit Gundam 00: Hakai ni yoru Saisei (Regeneration by Destruction) Re:Build," posted a key visual introducing its four main Gundam Meisters in their costumes.
Setsuna F. Seiei: Shohei Hashimoto (24/Yu Nishinoya in Haikyu!! stage plays)
Lockon Stratos: Yu Imari (30/Nagasone Kotetsu in Touken Ranbu stage plays)
Allelujah Haptism: Taiyou Ayukawa (27/Atsushi Murasakibara in Kuroko's Basketball stage plays)
Tieria Erde: Seiichiro Nagata (20/Eiji Kikumaru in The Prince of Tennis Musical)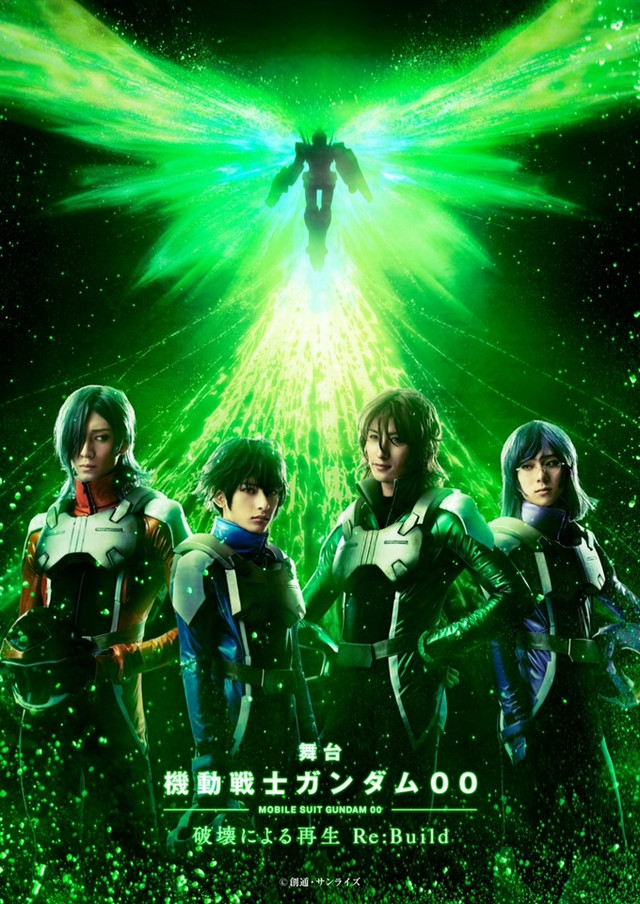 舞台『機動戦士ガンダム00-破壊による再生-Re:Build』
本日キービジュアル解禁!!#ダブステ pic.twitter.com/Pu95sVQeAh

— 舞台『機動戦士ガンダム00』 (@stage_g00) 2018年9月20日
Additional cast:
Graham Aker: Takahisa Maeyama
Billy Katagiri: Yu Kazuuchi
Sergei Smirnov: Yasuhisa Kato
Soma Peries: Aya Kitai
Kati Mannequin: Juri Hirayu
Patrick Colasour: Yusuke Seyo
Sumeragi Lee Noriega: Riona Tatemichi
Feldt Grace: Megumi Matsumura
Lasse Aeon: Takuro Sawada
Lichtendahl Tsery: Kenta Asegawa
Christina Sierra: Mio Kobayashi
Ali Al-Saachez: Akira Kubodera
---
The first stage play from the 40-year-old Gundam franchise is written/directed by Fumiya Matsuzaki (Prince
of Stride The Live Stage, 2.5 Escape Stage: Kabaneri of the Iron Fortress) and is scheduled to be performed
at Nippon Seinenkan Hall in Tokyo seven times from February 15 to 18, 2019, then at Morinimiya Piloti Hall
in Osaka four times on February 23 and 24. The stage play's official website will start accepting advance pre-
orders for its 8,800 yen (about 79 US dollars) tickets from tomorrow, September 21, to October 7. Then
general sales will begin on November 25.
舞台『機動戦士ガンダム00-破壊による再生-Re:Build』』
チケット→オフィシャルHP先行:9月21日(金)12時より受付開始!
詳しくはホームページをチェック!!https://t.co/9JoFrAWa7a #ダブステ

— 舞台『機動戦士ガンダム00』 (@stage_g00) 2018年9月20日
---
Source: "Mobile Suit Gundam 00" stage play official website / Twitter
©Sotsu, Sunrise