L'anime è composto da 12 episodi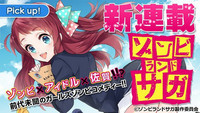 Il sito di manga Cycomi della Cygames ha iniziato la pubblicazione del manga tratto dall'anime Zombieland Saga di MAPPA, Avex Pictures e Cygames. Megumu Soramachi (Chivalry of a Failed Knight manga) disegna il manga. Il prossimo capitolo esordirà il 15 ottobre.
In più, Amazon ha in serbo tre Blu-ray Disc che contengono quattro episodi cadauno, per un totale di dodici episodi. Le uscite sono programmate per il 21 dicembre, 22 febbraio e 26 aprile.
Così il sito ufficiale ne descrive la trama:
Le stesse giornate. La solita musica. Il solito te stesso. Per sette ragazze, una vita tranquilla era in procinto di crollare a pezzi improvvisamente. Tutto per mano degli zombie, morti che per qualche ragione continuano a muoversi. Ora camminano in un nuovo mondo, che piaccia loro o meno. Un "mondo di zombie" che rappresenta sia il meglio che il peggio. Le sette ragazze hanno solo un desiderio: "Vogliamo vivere". Questa è la miracolosa saga che queste ragazze portano con sé.
L'anime ha fatto il suo esordio il 4 ottobre. Crunchyroll trasmette la serie in contemporanea con l'uscita in Giappone.
Munehisa Sakai (One Piece Film Strong World, Suite Precure, Sailor Moon Crystal) dirige l'anime per la MAPPA. "Kōhōkōchōka Zombie-gakari" (PR Zombie) ha la firma sul lavoro originale. Shigeru Murakoshi (Kakegurui, Garo -Vanishing Line- epsisode scripts) cura la composizione della serie. Kasumi Fukagawa (Persona 3 the Movie #1, assistente direttore dell'animazione di Spring of Birth) si occupa del character design. Kazuo Ogura è il direttore artistico, Takashi Yanagida è il direttore della fotografia e Masahiro Goto è l'editor. La Avex Pictures ha prodotto le musiche mentre dugout ha pensato al suono.
Fonti: Cycomi, Amazon
Notizia originale di Rafael Antonio Pineda su AnimeNewsNetwork