The names of the cast will be revealed on November 16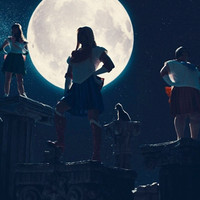 Tokyo-based social networking service company mixi's XFLAG Studio announced that they will launch a collaboration project between its popular mobile game franchise Monster Strike and Toei Animation's Sailor Moon Crystal anime series on November 16, and has opened a special website for it with a teaser trailer introducing four mysterious cast and one animal.
The video is narrated by Kotono Mitsuishi, the voice of Usagi Tsukino/Sailor Moon, saying "Guided by the moonlight, the two finally find each other. For all fans who were born in the same country/earth," and added in the end, "The moonlight is the message of love."
The names of the cast will be revealed on the collaboration project's launching day, November 16 (but I can say the one in the Sailor Mars costume standing on the right edge is probably Natsu Andoh, a member of Japanese comedy duo Maple Chogokin).
【美少女戦士セーラームーンCrystal×モンスト】

コラボ開催を記念して「全員戦士!キャンペーン」を実施中!
「全員美戦士 変身メーカー」をプレイして、特製壁紙やオリジナルグッズをGETしよう!#モンスト #セーラームーンモンスト
https://t.co/R3DpiznaNL

— モンストキャンペーン(公式) (@monst_campaign) 2018年11月12日
---
Sailor Moon Crystal, the reboot animeseries based on Naoko Takeuchi's Pretty Guardian Sailor Moon
shoujo manag series was aired for three seasons with a total of 39 episodes from July 2014 to June
2016. All episodes are now available on Crunchyroll.
Season 3 key visual
---
Source: mixi press release
©mixi, Inc.
©XFLAG
©NAOKO TAKEUCHI/PNP/KODANSHA/TOEI ANIMATION