Advance tickets go on sale from today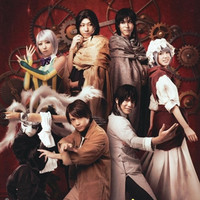 The official website for the forthcoming stage play adaptation of Kazuhiro Fujita's fantasy action shonen
manga Karakuri Circus is updated today with a new key visual featuring its seven main cast in costume,
including 26-year-old voice actress Riho Iida (Rin Hoshizora in Love Live!) as the main heroine Shirogane.
As reported, she and Momoka Ohnishi (AKB48 member) are double cast as Shirogane and Francine.
You can also check the 17 cast members' individual images on the site's CAST & STAFF section.
Key visual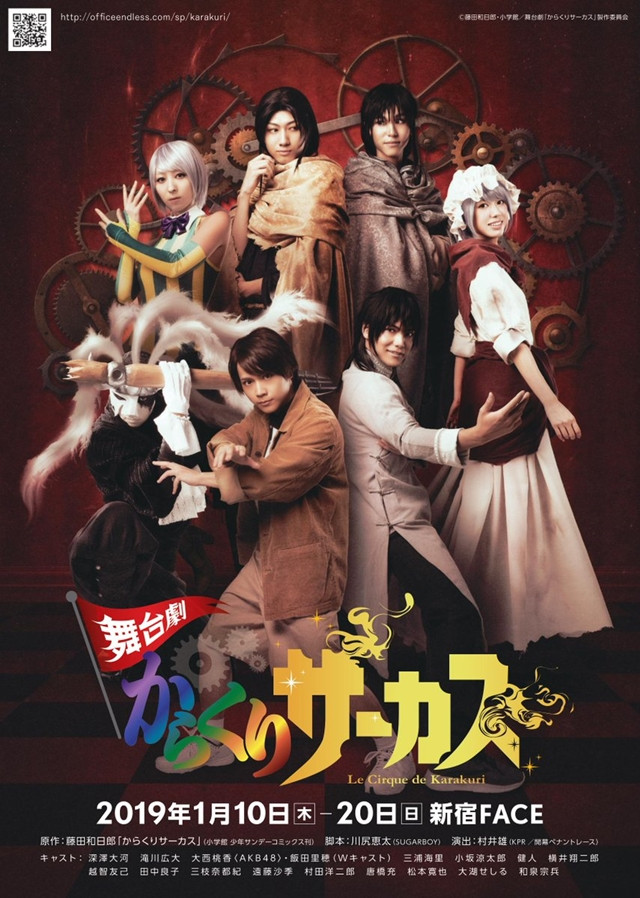 【ビジュアル公開】本日、新キービジュアルが解禁!
また、メインキャストのキャラクタービジュアルや追加キャストも公開いたしました!
詳細はこちらから→https://t.co/9nTGTtSEhe#舞台からサー pic.twitter.com/pfDS626qkK

— 舞台劇「からくりサーカス」公式 (@karakuri_stage) 2018年11月28日
The stage play is scheduled to be performed at Shinjuku FACE in Tokyo 17 times from January 10 to 20,
2019. Yu Murai (Love Rice stage play) is attached to direct on a script by Keita Kawajiri (Mob Psycho 100
stage plays). Advance tickets (Premium seat: 10,000 yen/Regular: 7,800 yen) go on sale on Lawson
Ticket from today, November 28.
Latest CM
Cast:
Masaru Saiga: Taiga Fukagawa
Narumi Kato: Koudai Takikawa
Sirogane & Francine: Momoka Ohnishi (AKB48), Riho Iida
Bai Yin: Kairi Miura
Bai Jin: Ryotaro Kosaka
Eiryou Ashihana: Kento
George LaRoche: Shojiro Sakurai
Guy Christophe Rech: Yuuko Ochi
Lucille Verneuil: Ryoko Tanaka
Arlequin: Nastuki Saegusa
Fatima: Saki Endoh
Faceless: Yojiro Murata
Pantalone: Nisturu Karahashi
Arlecchino: Hiroya Matsumoto
Columbine: Seshiru Taiko
Dottore: Souhei Izumi
---
Source: Stage play "Karakuri Circus" official website / Twitter
©Kazuhiro Fujita, Shogakukan / Stage Play "Karakuri Circus" Production Committee