Il gioco sarà venduto in Giappone dal 31 gennaio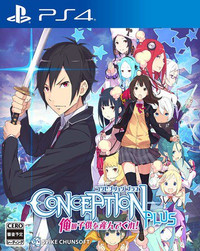 La Spike Chunsoft ha pubblicato un video trailer che mostra i personaggi del suo gioco Conception Plus: Ore no Kodomo wo Undekure!, versione migliorata del suo Conception: Ore no Kodomo wo Undekure!
Il gioco sarà lanciato sul mercato il 31 gennaio e la sua versione fisica conterrà un CD con le colonne sonore, mentre la versione digitale deluxe includerà la variante in costume da bagno dei personaggi.
Questa è la trama:
Nel giorno del diploma di Itsuki, sua cugina dice di essere incinta. Improvvisamente i due sono catapultati via nel mondo magico di Granvania dove le "impurity" infestano il pianeta. Le uniche persone che possano combattere ed esorcizzare i mostri sono i Figli Delle Stelle e possono essere generati solo dalle 12 "Sacerdotesse Delle Costellazioni". Per poter sconfiggere i mostri e fare ritorno nel suo mondo, Itsuki deve generare i Figli Delle Stelle con le sacerdotesse.
Sarà aggiunta in questo gioco Alfie, interpretata da Ai Kakuma, che è un personaggio inventato per la serie animata.
La Spike Chunsoft lanciò Conception: Ore no Kodomo wo Undekure! su PSP nel 2012. Un sequel, intitolato Conception II: Shichisei no Michibiki to Mazuru no Akumu, uscì per PS Vita e Nintendo 3DS nell'agosto 2013. La Atlus pubblicò il gioco in Nord America per entrambe le console con il titolo Conception II: Children of the Seven Stars nell'aprile 2014. La Spike Chunsoft fece uscire il gioco su Steam nel 2016.
La serie animata ispirata al gioco ha fatto il suo esordio il 9 ottobre e Crunchyroll la trasmette in contemporanea col Giappone.
Source: canale YouTube di Spike Chunsoft
Notizia originale di Jennifer Sherman su AnimeNewsNetwork