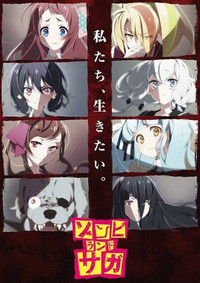 Animage, Animedia e la rivista Newtype insieme ad Animage, Animedia, la rivista Newtype e al sito di notizie Anime! Anime! hanno rivelato i risultati del gran premio Anime General Election 2018 e degli Anime Buzzword Awards durante lo stream di niconico del 13 gennaio. I redattori delle riviste hanno rivelato le nomine per il meglio dell'autunno 2018 come introduzione ai grandi annunci. I vincitori del concorso sono stati comunque scelti dall'utenza.
Gli utenti di internet hanno scelto i loro anime preferiti tra dicembre e gennaio. La serie autunnale Zombie Land Saga ha vinto solidamente il premio più ambito. Le Franchouchou hanno conquistato il cuore del 13.3% dei votanti e sono anche la prima scelta degli uomini (14.2%). Secondo in classifica SSSS.GRIDMAN, leggermente al di sopra di A Place Further Than the Universe.
Anime General Election 2018: Overall
SSSS.Gridman
Cells at Work!
Goblin Slayer
Bloom Into You
Anime General Election 2018: Men
SSSS.Gridman
Goblin Slayer
Cells at Work!
Uma Musume Pretty Derby
Anime General Election 2018: Women
Cells at Work!
Golden Kamuy
SSSS.Gridman
Attack on Titan
Similmente a Netto Ryūkōgo 100, la selezione per il sondaggio di buzzwords è basato sulle visualizzazioni delle pagine della Nico Nico Pedia e sui voti interni dello staff. Secondo la somma dei voti ecco la top 10 degli anime buzzwords of 2018.
Anime General Election 2018 Buzzwords
"Tomarun janēzo" ("Don't you ever stop." Frase di Orga Itsuka da Mobile Suit Gundam: Iron-Blooded Orphans)
"Yaarashi ka" (Zombie Land Saga)
"Goblin ka?" ("Is it a goblin?" da Goblin Slayer)
"Marude shōgi da na" ("It's just like shogi" da In Another World With My Smartphone)
"Hellshake Yano" (Pop Team Epic)
"Haibokusha" (One Piece)
"Oioi shunsatsuda yo" ("Hey, hey, it's a KO" da Hinamatsuri)
"Sate wa Anti na Omee ("So, you're a hater" da Pop Team Epic)
"Da ga Kotowaru" ("I refuse" da JoJo's Bizarre Adventure: Diamond Is Unbreakable)
"Ippai Chuki" ("A whole lot" da Pop Team Epic)
Fonte: Nico Nico Enquete tramite Nijimen
Notizia originale di Lynzee Loveridge su AnimeNewsNetwork