El juego dará el salto de Vita a Switch el 7 de febrero en Japón.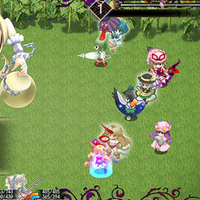 Desde Mediascape han anunciado que Touhou Genso Maroku W: The Devil of Decline llegará a las Nintendo Switch de Japón el próximo 7 de febrero vía la eShop al precio de 3,000 yenes.
Desarrollado por Strawberry Rose y lanzado originalmente para PSVita en junio de 2017, Touhou Genso Maroku W: The Devil of Decline nos presenta un "Sistema Shikigami" en el cual los personajes del grupo luchan equipados con shikigamis, habiendo más de 100 de estos para elegir, cada uno con sus propias habilidades. Algunos de los enemigos que se derroten se convertirán en shikigamis tras reclutarlos.
El juego cuenta con mazmorras divididas en zonas, alquimia, una gran cantidad de objetos y spell cards. Se completa con una enciclopedia ilustrada y otros extras.
Bajo estas líneas puede verse un tráiler del juego.
Fuente: Gematsu