La prima stagione è composta da 25 episodi ed è in corso da ottobre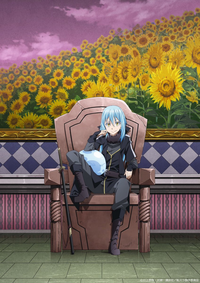 L'account Twitter della serie animata televisiva
That Time I Got Reincarnated as a Slime
(Tensei Shitara Slime Datta Ken) ha annunciato di aver dato il via libera alla produzione della seconda stagione per il 2020.
『転生したらスライムだった件』

TVアニメ続編制作決定✨

2020年始動‼️

宣伝T#転スラ #tensura pic.twitter.com/C1oTmcReQ3

— 【公式】TVアニメ『転生したらスライムだった件』 (@ten_sura_anime) 17 marzo 2019
L'adattamento animato del manga di Taiki Kawakami, che a sua volta adatta la serie di romanzi di Fuse illustrati da Mitz Vah, è iniziato ad ottobre e Crunchyroll lo ha trasmesso in contemporanea col Giappone. Il 23° episodio, l'ultimo della storia, è andato in onda l'11 marzo, ma saranno trasmessi altri due episodi nelle due settimane successive. Il prossimo episodio del 18 marzo si intitolerà "Kuro to Kamen" (Black and Mask). Sarà un episodio originale della versione animata e prevede l'incontro tra Shizu e Diablo. L'episodio extra numero 25, dal titolo "Veldora Nikki" (Veldora's Diary), sarà in onda il 25 marzo.
Yasuhito Kikuchi (Infinite Stratos, Macross Frontier, Busou Shinki) dirige l'anime per la 8-Bit con Atsushi Nakayama (Absolute Duo) come assistente alla regia. Kazuyuki Fudeyasu (Tantei Opera Milky Holmes, Girls' Last Tour, Recovery of an MMO Junkie) si occupa della composizione della serie, Ryouma Ebata (Busou Shinki, Magical Warfare) adatta i character design per l'animazione, Takahiro Kishida (Spring and Chaos, Serial Experiments Lain, Knight's & Magic) si occupa del design dei mostri. La composizione delle musiche è in mano alla Elements Garden
Fuse ha lanciato la storia serialmente sul sito "Shōsetsuka ni Narō" (Let's Become Novelists) dal 2013 al 2016. La Micro Magazine ha iniziato la pubblicazione cartacea della serie nel 2014 e ha venduto il tredicesimo numero lo scorso settembre. Taiki Kawakami ha lanciato il manga su Monthly Shonen Sirius della Kodansha nel 2015. La casa ha pubblicato il decimo numero il 7 dicembre.
La Yen Press pubblica i romanzi originali in inglese e la Kodansha Comics pubblica il manga. Sono stati prodotti vari manga spinoff sulla serie.
Fonte: account Twitter di That Time I Got Reincarnated as a Slime anime tramite Yaraon!
Notizia originale di Egan Loo su AnimeNewsNetwork