Ein Golem und sein Sohn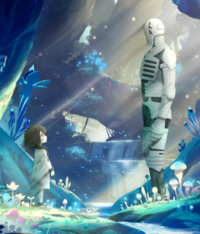 Die Anime Japan ist in vollem Gange und beschert uns derzeit wieder eine Vielzahl an neuen Trailern und Anime-Ankündigungen – und auch wir haben natürlich etwas für euch!
Denn der wunderschön gezeichnete Manga Somali and the Forest Spirit wird kommenden Herbst eine Animeadaption erhalten. Hierbei handelt es sich um eine Co-Produktion, an der wir beteiligt sind und das heißt natürlich: Wir werden ihn euch im Simulcast zeigen! Weitere Details geben wir hierzu bekannt, sobald der Release näher rückt.
Bei der Umsetzung der Serie bildet Regisseur Kenji Yasuda (MACROSS DELTA, Hakata Tonkotsu Ramens) ein Team mit Character Designer Ikuko Itou (Princess Tutu, Das Verschwinden der Yuki Nagato). Die Hauptrollen werden dabe von Daisuke Ono (Jotaro aus JoJo's Bizarre Adventure, Battler aus Umineko: When They Cry) als Golem und Inori Minase (Rem aus Re:ZERO) als Somali übernommen.