The 26th PreCure film marked the spring film's best opening weekend gross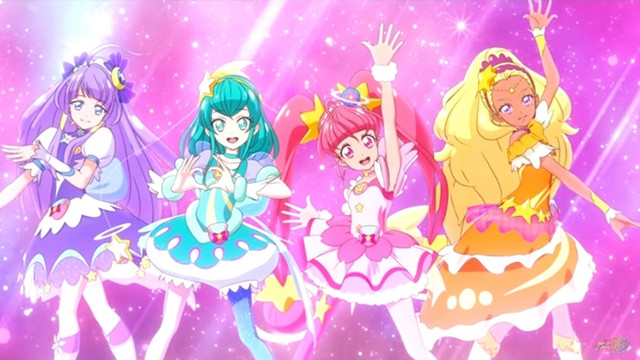 One week after its excellent opening in Japan, the PreCure franchise's official YouTube channel posted
a credit-less full version 3DCG dance ED movie from the PreCure Miracle Universe film, including a brief
dance instruction by Cure Star, the protagonist of the ongoing 16th TV series Star☆Twinkle PreCure.
The film's ED song "WINkuru! Miracle Universe" is sung by Rie Kitagawa, who performed the ED themes
for the 12th series Go! Princess PreCure, the OP themes for the 13th series Maho Girls PreCure!, and
the OP theme for the ongoing 16th series Star☆Twinkle PreCure.
Hikaru Hoshina/Cure Star's VA Eimi Naruse has posted a dance video for the song on the film's official Twitter.
【大公開❗️成瀬瑛美さんダンス動画????】#キュアスター /#星奈ひかる 役の#成瀬瑛美 さんが
『映画プリキュアミラクルユニバース』のEDダンスの
応援ダンスパートを踊ってくれたよ~????

みんなもダンスをたっくさん練習して
映画館で一緒に踊ってくれたら嬉しいな❤️#映画プリキュア #スタプリ pic.twitter.com/8FIJz5JMwI

— 映画プリキュアミラクルユニバース (@precure_movie) 2019年3月22日
---
The 26th PreCure film (12th crossover film) featuring the 15 PreCure girls from the recent three TV
series: the 14th series Kirakira PreCure a la Mode (2017-2018), the 15th series Hugtto! PreCure
(2018-2019), and the ongoing 16th series Star☆Twinkle PreCure (2019-), was released in 229
theaters across Japan on March 16, 2019.
The 70-minute film ranked third in its opening weekend with 248,351,400 yen from the 221,579
ticket sales, which was the best opening box office gross for a PreCure film released in spring.
Full trailer
---
Source: "PreCure" official YouTube channel
©2019 Movie PreCure Miracle Universe Production Committee