Mahjong with a cute anime style twist is sure to entertain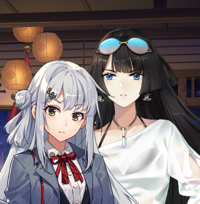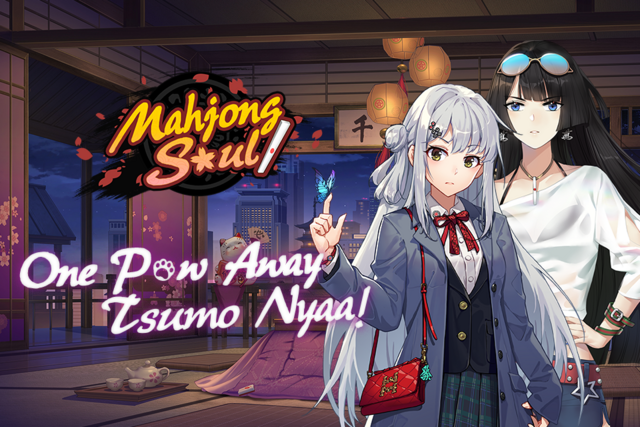 After playing the game for a couple days since launch, Mahjong Soul is not like any mahjong game where players simply drone through levels matching tiles. Mahjong Soul is an authentic Japanese Mahjong game that features famous Japanese voice actresses, easy and interactive gameplay, as well as a customizable game experience where players can select different music tracks, effects, and visual styles. With an in-game Friendly Match system, players can join or invite their friends to play together as well as play against CPU opponents. The game also offers a comprehensive tutorial that will guide new players to play mahjong and complete a match. The game has already launched on the web as of April 25th, with mobile versions on iOS and Android slated for release in the future.
To start playing, players can use their Google, Facebook or Twitter account to directly log in to the game. For those who don't prefer to use their social accounts, they can use their email address and receive a verification code to create a Yostar account for the game. After players finish naming his/her account, one of two default characters will pop up and proceed to teach players how to easily complete and win a match.
Play Mahjong Soul Now: https://mahjongsoul.game.yo-star.com
Mahjong Soul has the same tile count as other mahjong games. There are 34 type of tiles, and each type of tile comes in a multiple of four. All tiles fall under one of five groups, being: Man, Pin, Sou, Wind, and Dragon. Each player will start with 13 tiles in their hand. For every player's turn, he/she will draw a tile from the wall or claim a discarded tile from another player. Claiming a discarded time from another player will temporarily give this player 14 tiles in his/her hand. If the player has a winning hand of four groups and one pair (four sequences/triplets plus one pair) and the player has a valid yaku, then he/she can declare a winning hand.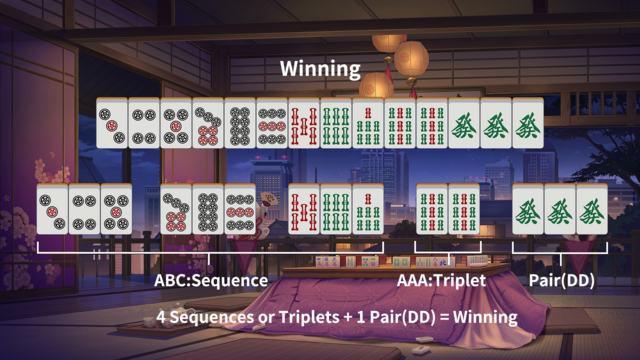 Mahjong Soul caters to new players of mahjong. New players can easily pick up the gameplay after they finish the detailed tutorial. The tutorial will equip them with fundamental knowledge on how to complete a hand and win a match. Furthermore, new players can also hone their skills by playing against AI opponents in a private match. For players or fans who are already familiar with traditional Japanese Mahjong, this game is a perfect fit with its neat UI design and Japanese style graphics.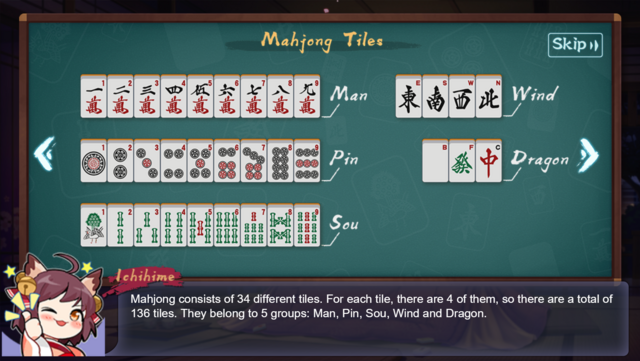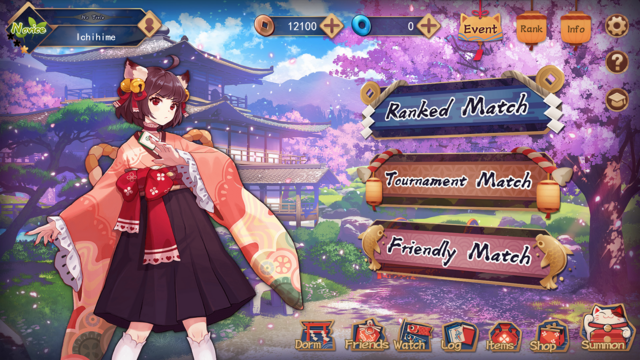 Mahjong Soul also features fair matchmaking based on each player's rank. Players can rank up by playing ranking matches. Players can enjoy exhilarating matches with other skilled mahjong players in ranked matches.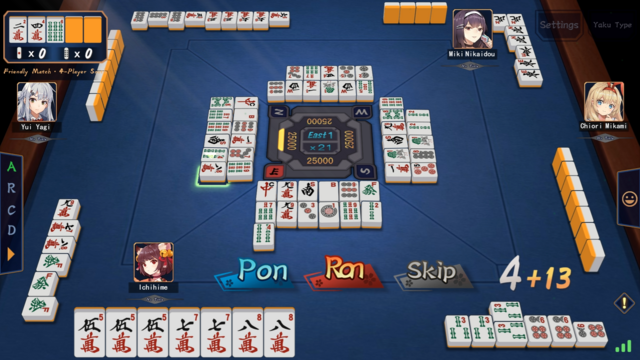 Mahjong Soul offers players super flexible customization options. Players can choose from one of two default characters to start, with an additional six summonable characters in the lineup. Each anime girl character possesses their own unique personalities and backstory. Players can set their favorite character to represent their avatar in the game. Players can also increase their bond with their characters by playing rank matches or by sending gifts to their characters which will increase the intimacy points between the players and their avatars. When the intimacy point reaches a certain level, a new character image, a new set emojis, and a new set of voice over will be unlocked all at the same time.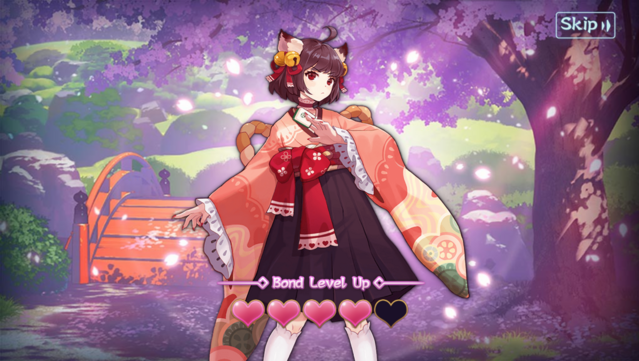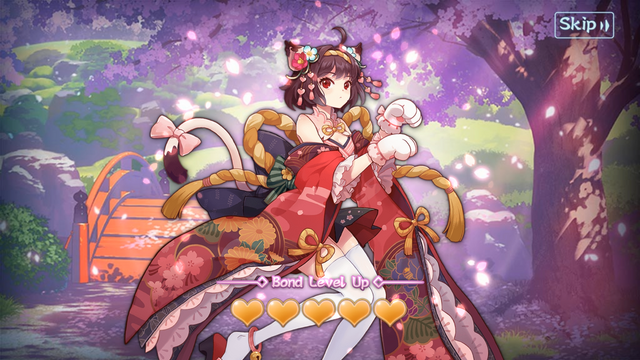 The game also has a selection of music tracks, multiple special effects when a player wins a hand or when a player declares Riichi and more; there's also styles of tablecloth and tile back customizations. Suffice to say, there are tons of customizable elements to personalize Mahjong Soul to your play style.
Moreover, Mahjong Soul wants to be a game that encourages player interactions. Players can discover and compete with others from all over the world. Players can enjoy friendly matches by either creating or joining a room through Mahjong Soul's Friends System. Players can spectate other people's matches to discover tips and tricks throughout the game. Players can also use fun emojis derived from their characters during the match, each character possesses an entire set emojis for players to show their reactions in real-time in a match.
Japanese Mahjong is a magical game that requires both luck and tactics in order to win and prevent your opponents from winning first. With Mahjong Soul, the combination of cute anime-style characters and deep gameplay is sure to leave both novices and veterans completely satisfied. Check out the links below for more information.
Official website:https://mahjongsoul.yo-star.com
Facebook official page:https://www.facebook.com/MahjongSoulEN/
YouTube Channel:https://www.youtube.com/channel/UCTv15gFjpwnJ-WpnOkIZq_w
Twitter:https://twitter.com/MahjongSoul_EN
Discord:https://discord.gg/PDn4AaT
Twitch:https://www.twitch.tv/mahjongsoulofficial
About Yostar Games
Founded in 2014, Yostar Games is an internet game company that specializes in the development, global distribution, investment and IP management of online games. Yostar Games is situated in Tokyo and Shanghai. Yostar Games is the top publisher, developer and investor of ACG in China. In 2017, Yostar successfully released the mobile game Azur Lane for Japan. As popularity grew dramatically for Azur Lane, Yostar Games then successfully held its global release in 2018. Yostar also developed Nono From Another World in China. Moving forward, Yostar will continue to explore and expand in maturing ACG markets. The company strives to become the premier ACG internet game publishing company.