Se estrenará el 23 de agosto en cines japoneses.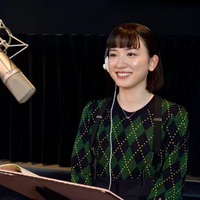 Desde la web oficial de la película animada que Level-5 de su franquicia de videojuegos Ni no Kuni se ha revelado que Mackenyu será la voz de Haru, mientras que Mei Nagano será la princesa de Ni no Kuni Asha.
Se suman así al reparto ya conocido:
Kento Yamazaki como Yu
Mamoru Miyano como Yoki
Kenjiro Tsuda como Gabaras
Maaya Sakamoto como Saki y Velsa
Kouichi Yamadera como Balton
Yuuki Kaji como Danpo
Masato Ibu como Rey Flander de Evermore
Tsuyoshi Muro como Oji-san
Serishun y Haruka Minase se unirán al reparto de voces del proyecto tras haber ganado las audiciones que se realizaron para buscar nuevas voces.
El filme se estrenará el 23 de agosto en cines japoneses.
Yoshiyuki Momose (diseño de personajes en The Legend of the Galactic Heroes) será el director del filme tras haber dirigido el juego, siendo el mítico compositor Joe Hisaishi (La princesa Mononoke, Nausicaä) nuevamente el responsable de ponerle música. Akihiro Hino, presidente y CEO de Level-5, supervisará el proyecto y escribirá el guion, mientras que Hiroyoshi Koiwai (películas de imagen real de Gintama, Rurouni Kenshin) será el productor ejecutivo. OLM (Pokémon, Inazuma Eleven) será el estudio responsable de animar el filme, el cual distribuirá Warner Bros. Japan.
La historia original hará que los tres amigos se vean involucrados en cierto incidente que les permitirá viajar entre la realidad y el mundo de Ni no Kuni. Cuando la vida de Kotona corra peligro en ambos mundos, los tres amigos tendrán que tomar una dura decisión.
Level-5 lanzaba el primer Ni no Kuni en 2010 con Ni no Kuni: Shikkoku no Madoushi para Nintendo DS, siguiéndole Ni no Kuni: La ira de la Bruja Blanca en las PlayStation 3 japonesas en 2011. Este juego llegó a occidente en 2013. Ya en marzo del pasado año se lanzaba Ni no Kuni II: El renacer de un Reino en las PlayStation 4 y PC de todo el mundo.
Fuente: ANN