Masakazu Hishida (KING OF PRISM)-directed series is set to premiere on July 7, 2019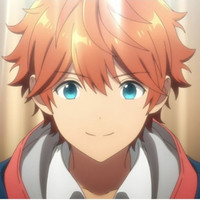 At the advance screening event held at the Marunouchi Piccadilly theater in Tokyo on Monday, a 90-second new PV for the forthcoming TV anime adaptation of Happy Elements and Cacalia Studio's male idol-featured mobile game Ensemble Stars! was screened for the first time, then the clip was posted on BANDAI NAMCO Arts' official YouTube channel.
The clip introduces the anime's OP song "Stars' Ensemble!" performed by the special unit "Yumenosaki Dream Stars," which was formed by 37 male idol characters from the franchise's 11 units. The CD single of the song, also including a mini drama by Trickstar to introduce the songs, is set to be released in Japan on August 14, 2019.
2nd PV:
【新情報④】8/14(水)にオープニング主題歌「Stars' Ensemble!」の発売が決定!歌うのは、夢ノ咲学院の総勢11ユニット37名で結成された《夢ノ咲ドリームスターズ》です♪Trickstarによる楽曲紹介のミニドラマも収録予定!https://t.co/rhZlq6cch8 #あんスタ pic.twitter.com/Z8kBbl57Ag

— 【公式】TVアニメ「あんさんぶるスターズ!」 (@stars_animation) 2019年6月17日
---
The male idol raising game started its service for iOS and Android in April 2015, and has expanded to various types of projects, such as novels, manga, web radio programs, and stage play adaptations.
The TV anime Ensemble Stars! is set to premiere on TOKYO MX and other stations in Japan at 22:30 on July 7, 2019 (JST). Instead of the previously announced Junpaku Yagurashita, Masakazu Hishida, who has worked on another mega-hit male idol franchise KING OF PRISM, is officially announced as the anime's director. Its DVD/Blu-ray is already set to be released on September 26, 2019.
【新情報③】9/26(木)にBlu-ray & DVD第1巻の発売が決定!『Trickstar』描き下ろしジャケットイラストも公開いたしました!ここでしか見られないピクチャードラマや「ぶくスタ」も掲載した特製ブックレット他、豪華特典満載です!発売をお楽しみに♪https://t.co/AXHdrEM6j6 #あんスタ pic.twitter.com/1IvpEicODm

— 【公式】TVアニメ「あんさんぶるスターズ!」 (@stars_animation) 2019年6月17日
Main voice cast:
[Trickstar]
Hokuto Hidaka: Tomoaki Maeno
Subaru Akehoshi: Tetsuya Kakihara
Makoto Yuki: Showtaro Morikubo
Mao Isara: Yuki Kaji
[fine]
Eichi Tenshouin: Hikaru Midorikawa
Wataru Hibiki: Takuya Eguchi
Touri Himemiya: Ayumu Murase
Yuzuru Fushimi: Koutaro Hashimoto
[Akatsuki]
Keito Hasumi: Yuichiro Umehara
Kuro Kiryu: Shinichiro Kamio
Souma Kanzaki: Keisuke Kaminaga
[UNDEAD]
ReKaoru Hakaze: Kei Hosogai
Rei Sakuma: Toshiki Masuda
Koga Ogami: Yuki Ono
Adonis Otogari: Wataru Hatano
[Knights]
Leo Tsukikage: Shintaro Asanuma
Izumi Sena: Masami Ito
Ritsu Sakuma: Daiki Yamashita
Arashi Narukami: Ryo kitamuta
Tsukasa Suou: Reio Tsuchida
[Ryuseitai]
Chiaki Morisawa: Yuichi Jose
Kanata Shinkai: Kotaro Nishiyama
Tetora Nagumo: Yoshiki Nakajima
Midori Takamine: Takumi Watanabe
Shinobu Sengoku: Anju Nitta
[Ra*bits]
Nazuna Nito: Yuki Yonai
Mitsuru Tenma: Junya Ikeda
Tomoya Mashiro: Shunya Hiruma
Shino Hajime: Tomoya Kosaka
[2wink]
Hinata Aoi: Souma Saito
Yuta Aoi: Souma Saito
[Valkyrie]
Shu Itsuki: Hiroki Takahashi
Mika Kagehira: Jun Osuka
[Switch]
Natsume Sakasaki: Kenji Nojima
Tsumugi Aoba: Kaito Ishikawa
Sora Harukawa: Kazuomi Yamamaoto
[MaM]
Madara Mikejima: Kosuke Toriumi
[Adam]
Nagisa Ran: Junichi Suwabe
Ibara Saegusa: Ryota Osaka
[Eve]
Hiyori Tomoe: Natsuki Hanae
Jun Sazanami: Yuuma Uchida
[Teachers]
Jin Sagami: Tomoyasu Hishiba
Akiomi Kunugi: Wataru Komada
---
Source: TV anime "Ensemble Star!" official website / Twitter
©Happy Elements K.K/EnSta! Anime Production Committee