Never miss an update with the help of our master post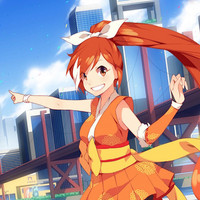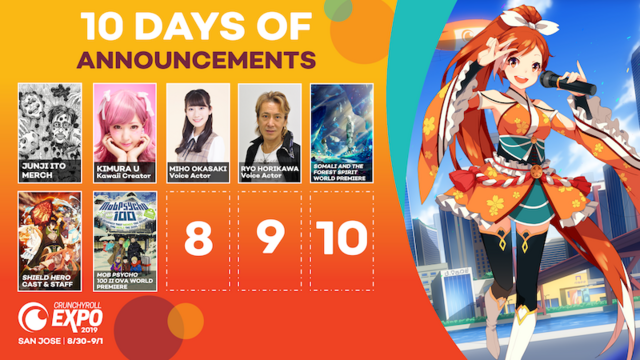 With so much going on at Crunchyroll Expo 2019, it can be tough to keep track of it all. We're making things a little easier for everyone with a new 10 Days of Announcements master post, so consider this your go-to spot for all the latest guest announcements and more out of this year's event!
DAY 7: Crunchyroll Expo 2019 to Host Mob Psycho 100 II OVA World Premiere!
Get ready, aspiring espers, because the very first Spirits and Such company trip is coming to Crunchyroll Expo 2019! That's right, we're delighted to announce that CRX 2019 will be hosting the WORLD PREMIERE of the Mob Psycho 100 II OVA, which has Mob, Reigen, and his friends heading off to a hot spring.
Here's what you can expect in Mob Psycho 100 II: The First Spirits and Such Company Trip ~A Journey that Mends the Heart and Heals the Soul~:
Mob, Reigen, Dimple, and the newest member of the Spirits and Such Consultation Office staff, Serizawa, take a trip up to a secluded hot spring called Ibogami Hot Springs in Zebra Prefecture. Reigen happened to get a request from the matron there to discover the truth behind the strange rumors going around there and save the inn. Ritsu and Teru also join in on this trip and the six of them head out on this super relaxing trip to the hot spring. But on their way there, Reigen and Serizawa start nodding off on the train and somehow get sucked into an eerie parallel world...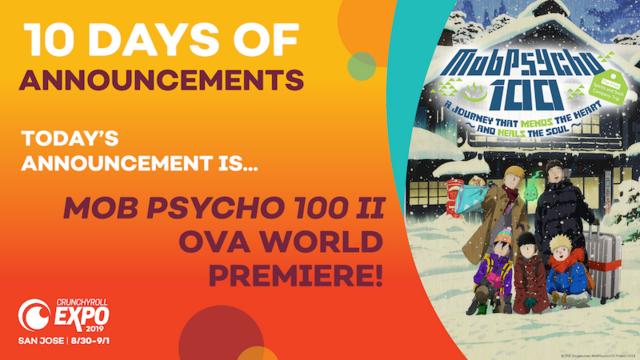 Fans of The Rising of the Shield Hero anime won't want to miss Crunchyroll Expo 2019, because this year's event is now bringing a bunch of the folks responsible for the hit series. FIVE Shield Hero guests are on the way to CRX, including OP performers MADKID, Myne voice actress Sarah Emi Bridcutt, character designer Masahiro Suwa, music composer Kevin Penkin, and producer Junichiro Tamura!
More on this amazing slate of guests:
MADKID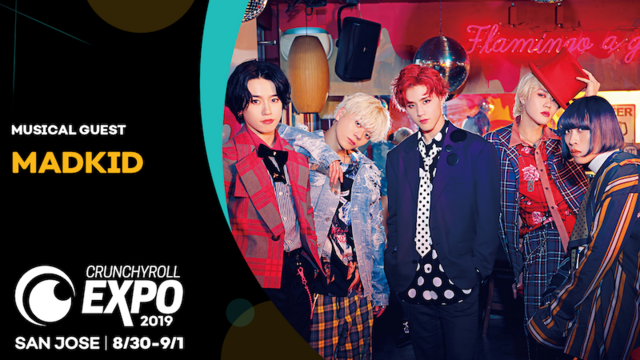 Formed in 2014, they are a dance vocal group comprised of 3 vocalists and 2 rappers, and they made their major debut in January 2018 with their single "Never going back." MADKID performed the openings for The Rising of the Shield Hero, which started airing January 2019. "RISE," the opening for the first half, has totaled over 9 million views on YouTube (as of June 2019). Their first major album released in April 2019 and included "FAITH," the opening for the second half of the show.
Sarah Emi Bridcutt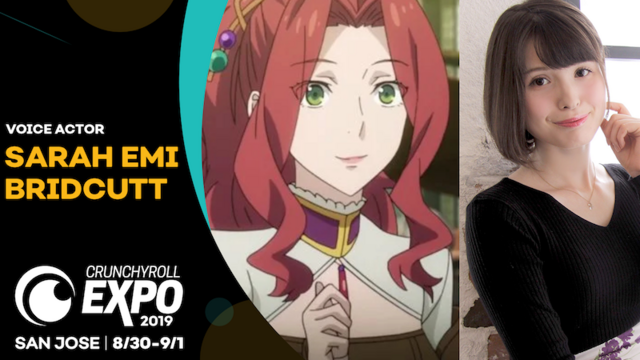 A half-Australian, half-Japanese voice actress who made her debut in 2012, then voiced Kudou Asuka in Problem Children Are Coming From Another World, Aren't They? for her first starring role. Since then, she has made a name for herself by appearing in anime, games, and Japanese dubs of western movies. She is well known for her performances as Myne in The Rising of the Shield Hero and Yamai Yuzuru in Date A Live.
Masahiro Suwa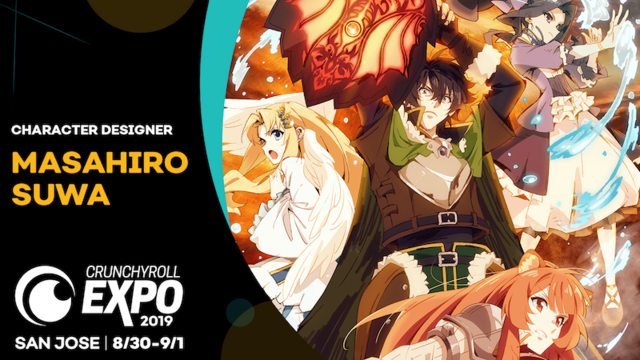 Born January 31st, 1982. Animator.
Chaika the Coffin Princess (2014): Chief Animation Director
Chaika the Coffin Princess - Avenging Battle (2014): Chief Animation Director
Under the Dog (2015): Main Animator
Scorching Ping Pong Girls (2016): Chief Animation Director
The Rising of the Shield Hero (2019): Character Designer, Chief Animation Director
Kevin Penkin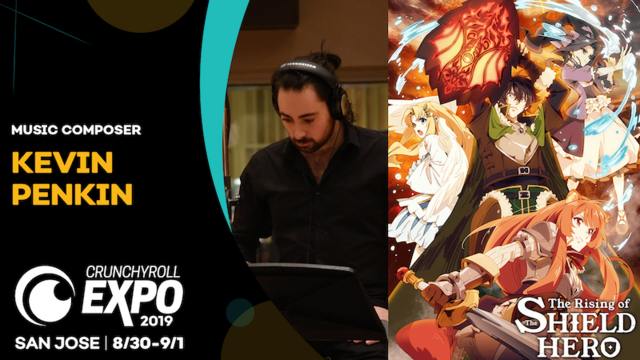 Kevin Penkin, based in London, is an Australian composer for Japanese anime and video games. Penkin is best known for composing the Crunchyroll Anime Award-winning score to Made in Abyss, and the score to the craft game Florence (Studio Mountains), which won an Apple Design Award in 2018.
Before moving to London in 2013 to complete a Masters degree in Composition for Screen at the Royal College of Music, Penkin collaborated with legendary composer Nobuo Uematsu on a number of Japanese video game titles. This eventually led Penkin to break into the anime industry, as he went on to write the score for the anime Norn9, based on a game Penkin and Uematsu had previously worked on.
Since debuting in 2011, Penkin has been involved in an eclectic range of projects ranging from the fantasy worlds of Defenders Quest and Made in Abyss, to the sci-fi landscapes of Under the Dog, and to the streets of Melbourne in Florence and Necrobarista. Throughout his career, Penkin has recorded with orchestras around the world, including in Vienna, Macedonia, Boston, Nashville and Australia, as well as collaborating with highly esteemed singers Takeshi Saito, Emi Evans and Raj Ramayya.
Junichiro Tamura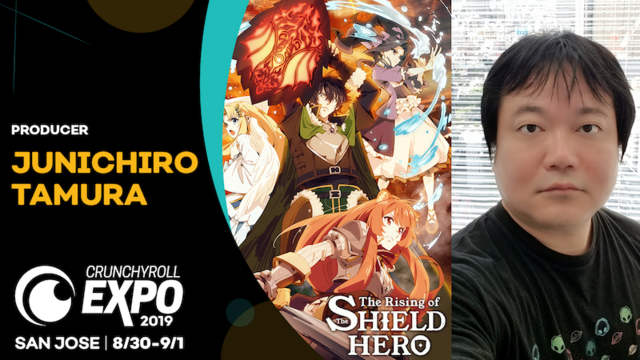 He's known for his work on fan-favorite series including The Rising of the Shield Hero, Bungo Stray Dogs, PRISMA ILLYA, Anti-Magic Academy: The 35th Test Platoon, Chio's School Road, Angolmois: Record of Mongol Invasion, and others.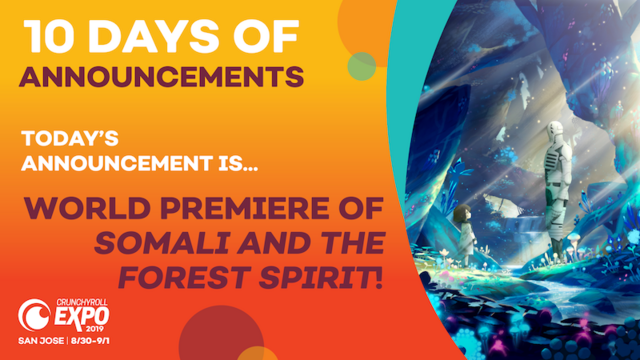 The anime adaptation of Yako Gureishi's Somali and the Forest Spirit manga is coming to Japanese TV and Crunchyroll in January of 2020, but those attending Crunchyroll Expo 2019 will get to see the series' debut early! The Crunchyroll co-production will premiere its first episode at this year's CRX, with the screening set to take place on Friday, August 30 at 1:00 PM. Stay tuned for more info!
DAY 4: Crunchyroll Expo 2019 Welcomes Vegeta Voice Actor Ryo Horikawa!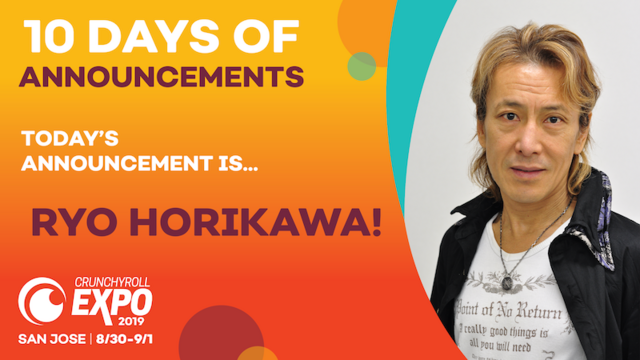 Ryo Horikawa is an actor and voice actor, and he is the President of Aslead Company. Born February 1st, he is originally from Osaka, Japan and has showcased his talents in films, anime, games and on stage. Mr. Horikawa has voiced characters in many anime throughout the years including Vegeta in the Dragon Ball series, Heiji Hattori from Detective Conan, Reinhard von Lohengramm from Legend of the Galactic Heroes, Shun Andromeda from Saint Seiya, Kou Uraki from Mobile Suit Gundam 0083: Stardust Memory, Karasu from Yu Yu Hakusho, Zaruchimu from Zatch Bell!, and many more.
DAY 3: Crunchyroll Expo 2019 Welcomes the Voice of Rimuru, Miho Okasaki!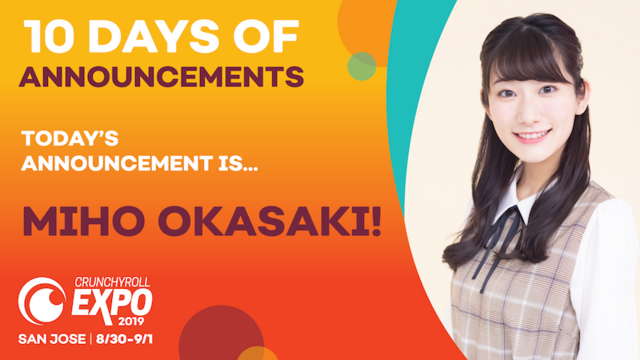 Miho Okasaki is a rising star in the voice acting realm. After enrolling in the Japan Narration Actor Institute, she began to forge her mark in 2017. Lending her voice work to anime like Gundam Build Divers (Miyu), Sword Art Online Alicization, Ongaku Shōjo (Miku Nishino) and Idolish7 allowed Miho to refine her talents. 2018 brought her major success as she landed her first lead role as Rimuru Tempest in That Time I Got Reincarnated As A Slime. 2019 also saw her as Maria in The Magnificent Kotobuki. When she isn't in the studio you can find the multitalented Miho Okasaki singing at karaoke, dancing, slaying at badminton or polishing her already immaculate calligraphy.

DAY 2: Crunchyroll Expo 2019 Welcomes Kawaii Ambassador KIMURA U!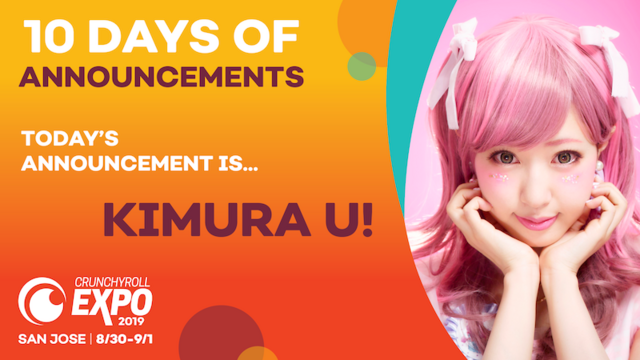 Appointed by Japan's Ministry of Foreign Affairs, KIMURA U acts as a "Kawaii Ambassador (Ambassador of Cute)" and has taken part in many Cool Japan events and fashion shows around the world. She is also a fashion creator and is very popular as a Lolita fashion model in Japan and China. Based on her own story, she created an autobiographical comic "Haikei, Gomi-Yashiki Kara (Hello from a Hoarding House)" and it won the award from iTHAT magazine for being the best "Jibun wo Ikiru Bible Book (Guidebook to Live Your Own Life)". Her creative path goes beyond the fashion industry, and she is currently creating comic books and anime.
DAY 1: Crunchyroll Expo 2019 Reveals Exclusive Junji Ito Merch Collection!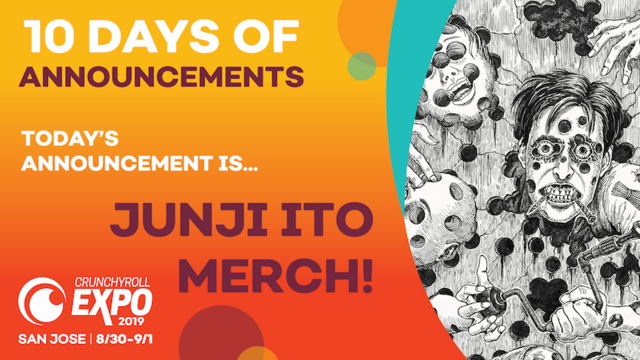 An exclusive line of Junji Ito merchandise will be available at this year's Crunchyroll Expo, with the full line of designs to be revealed soon. The collection will feature three designs that Ito-sensei made JUST for the event. The merch line will be available at various locations throughout the convention. Junji Ito will also be at Crunchyroll Expo 2019 to talk about his creative process, so come meet the horror master and leave with items you can't get anywhere else!
Stay tuned for more CRX updates!
>>Visit the Crunchyroll Expo 2019 Website