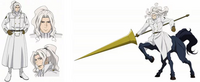 Il sito ufficiale dell'anime televisivo To The Abandoned Sacred Beasts, tratto dal manga di Maybe, ha annunciato che Tomokazu Sugita interpreterà Miles (Cenetaur). Sugita era già previsto come doppiatore di uno degli Incarnati commilitoni di Hank e Cain.
L'anime esordirà su Tokyo MX e BS11 il primo luglio e poi su MBS il giorno successivo. La trasmissione in streaming in Giappone sarà esclusiva di Fuji on Demand e Crunchyroll pubblicherà gli episodi in occidente.
Ecco il video promozionale della serie:
Jun Shishido (storyboard artist e regista degli episodi di Yuri!!! on Ice, Death Parade, Banana Fish) esordisce come regista della serie per la MAPPA e Shigeru Murakoshi (Zombie Land Saga) si occupa della sceneggiatura. Daisuke Niinuma (direttore dell'animazione di Banana Fish e Kids on the Slope) è il character designer e anche direttore dell'animazione. Takayuki Sano firma il design degli Incarnati.
Mafumafu interpreta la sigla iniziale "Sacrifice" e la sigla di chiusura, "HHOOWWLL", è di Gero×ARAKI.
"HHOOWWLL."
Fonti: sito dell'anime to the abandoned Sacred Beasts, MoCa News
Notizia originale di Crystalyn Hodgkins su AnimeNewsNetwork