From Osamu Tezuka's "Princess Knight" to CLAMP's "Cardcaptor Sakura: Clear Card"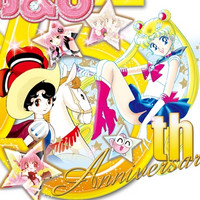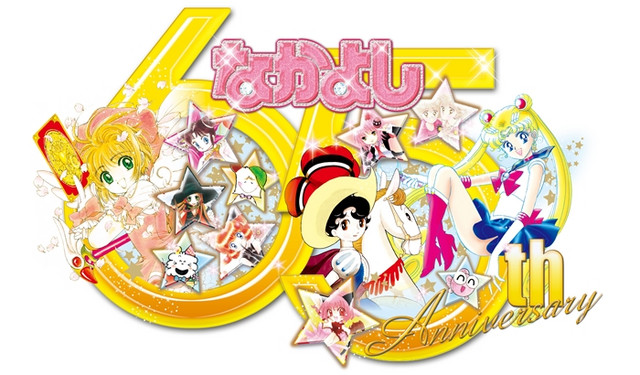 Japan's oldest currently published shoujo manga magazine Nakayoshi was launched by Kodansha in December 1954, and will celebrate its 65th anniversary with its January 2020 issue to be released on December 3, 2019. To celebrate the memorial year, a special original manga art exhibition is set to be held at Yayoi Museum in Tokyo from October 4 to December 25, 2019.
The manga series that will provide their valuable original arts for the exhibition include:
"Princess Knight" by Osamu Tezuka (1958-1959/1963-1966)
"Youkihiden" by Suzue Miuchi (1981)
"Nanairo Magic" by Yu Asagiri (1986-1988)
"Goldfish Warning!" by Neko Nekobe (1989-1993)
"Pretty Guardian Sailor Moon" by Naoko Takeuchi (1992-1997)
"Magic Knight Rayearth" by CLAMP (1993-1996)
"Sugar Sugar Rune" by Moyoco Anno (2003-2007)
"Shugo Chara!" by PEACH-PIT (2006-2010)
"Card Captor Sakura: Clear Card" by CLAMP (2016-)
i
The exhibition will also offer:
A memorial section for Yu Asagiri who passed away last year at 62.
A display section for the supplements featuring Saint Tail (Megumi Tachikawa), Tokyo Mew Mew (Reiko Yoshida/Mia Ikumi).
A section to introduce the ongoing series in the magazine, including Futago Kamikita's PreCure series.
In addition, a catalog including the original manga arts to be displayed at the exhibition will be released in September 2019.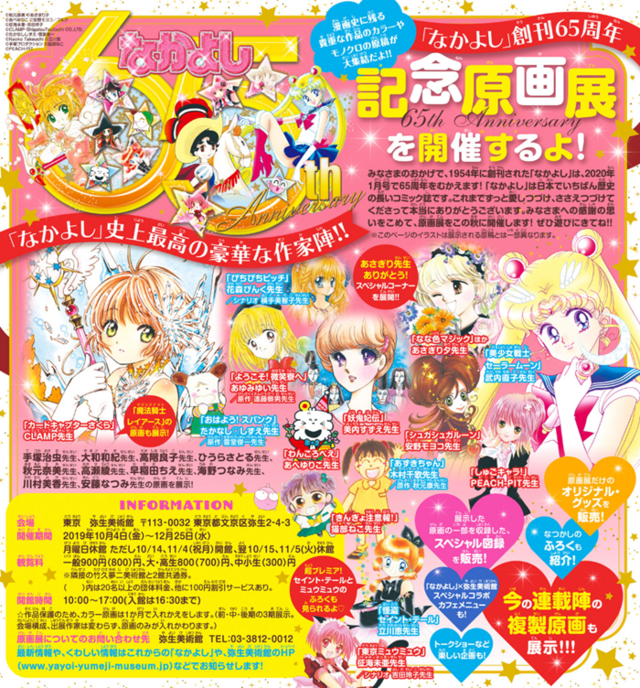 "Nakayoshi"'s latest August 2019 issue is released today in Japan:
/
 なかよし8月号、本日発売っ????✨
\

表紙もふろくもさくら一色❣️
さくらスペシャル号~????????

ふろくは大サービス号????
超プレミアムWふろく!!!

さくら展in大阪ひらかたパーク開催記念
メモリアルクリアファイル????

&

BLUE CROSS girls
ロゴテープイヤリング????

創刊65周年記念原画展情報も‼️ pic.twitter.com/qO6xvqYeyk

— なかよし編集部 (@nakayosi_manga) 2019年7月2日
---
Source: Kodanhsa press release
©Nami Akimoto ©Yu Asagiri ©Yuriko Abe ©Moyoco Anno/Cork
©Reiko Yoshida, Mia Ikumi ©CLAMP,ShigatsuTsuitachi CO.,LTD.
©Shizue Takanashi, Shunichi Yukimuro ©Naoko Takeuchi
©Megumi Tachikawa ©Tezuka Production ©Neko Nekobe ©PEACH-PIT