Il personaggio giungerà il 19 settembre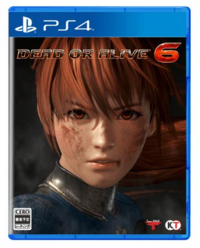 ---
La Sony ha annunciato sabato che Momiji di Ninja Gaiden si unirà al gioco Dead or Alive 6 della KOEI Tecmo, il 19 settembre, come personaggio giocabile. Il DLC debutterà con 5 costumi (deluxe costume, happy wedding costume, seven seas pirates costume, paradise swimsuit costume, "summer dress rustling in the sea breeze" costume) e con 26 vestiti in stile ninja per gli altri personaggi.
Tutto il contenuto descritto poco fa è anche parte del secondo season pass del gioco. Il nuovo season pass conterrà anche tutti i costumi contenuti nel precedente, come i 26 "paradise swimsuit", un set di 12 tracce audio in più, 15 vestiti della serie "summer dress rustling in the sea breeze" e due altri costumi bonus. Costa 8.640 yen (circa 80 dollari).
Il gioco è uscito per PlayStation 4, Xbox One e PC tramite Steam il primo marzo. Il gioco verrà anche convertito in un arcade. La Sega distribuirà il gioco tramite il suo servizio "ALL.Net P-ras MULTI version 3", che permette la distribuzione digitale dei giochi su sistemi arcade in tutto il Giappone. Il Team Ninja non ha ancora parlato di una data per la versione arcade.
Il gioco più recente del franchise è Dead or Alive Xtreme Venus Vacation, venduto per PS4 e PlayStation Vita nel 2016, seguito dalla versione per PC nel 2017. Il 20 marzo è stata la volta di Dead or Alive Xtreme 3 Scarlet per Switch.
Fonte: blog della PlayStation

Notizia originale di Crystalyn Hodgkins su AnimeNewsNetwork