Un peu de magie dans votre vie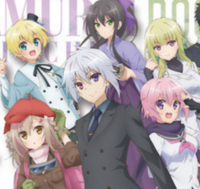 L'automne a démarré en beauté et on se retrouve pour faire un petit focus sur l'animé High School Prodigies Have It Easy Even in Another World qui débarque en simulcast sur Crunchyroll ! Cette adaptation de la série de light novels de Riku Misora et Sacraneco sera disponible en VOSTFR très prochainement parmi les nouveautés de la saison.
RÉSUMÉ
Après un crash aérien, sept lycéens se retrouvent dans un monde parallèle où la magie existe. Pas vraiment pris au dépourvu par cette étrange situation, ils accomplissent de véritables exploits : créer une centrale d'énergie non électrique, prendre le contrôle économique d'une grande ville et libérer ses habitants des dirigeants corrompus qui les tyrannisaient... Personne ne peut les arrêter ! Comme vous l'aurez sûrement deviné, ces sept adolescents ne sont pas comme les autres. Ces véritables prodiges des domaines politique, économique, scientifique et médical sont en route pour révolutionner leur nouveau monde.
À SAVOIR
– L'histoire est adaptée de la série de light novels écrite par Riku Misora et illustrée par Sacraneco, publiée au Japon depuis 2015 au sein du label GA Bunko (DanMachi, Goblin Slayer) de SB Creative.
– La série est produite par le studio Project No.9 (Tenshi no 3P, The Ryuo's Work is Never Done!).
CRUNCHYROLL
Lancement au Japon : 3 octobre 2019

Diffusion : à venir
Page Crunchyroll : à venir
FICHE TECHNIQUE
Titre original : Chôjin-Kôkôseitachi wa Isekai demo Yoyû de Ikinuku Yôdesu! (超人高校生たちは異世界でも余裕で生き抜くようです!)
Genre : Fantasy
Année : 2019
Format : épisodes de 23 minutes
Auteurs : Riku Misora (écriture) et Sacraneco (illustrations)

Réalisateur : Shinsuke Yanagi
Studio de production : Project No.9
TERRITOIRES
High School Prodigies Have It Easy Even in Another World sera disponible sur Crunchyroll dans le monde entier, excepté en Asie.