Il manga sui combattimenti tra vampiri è uscito nel febbraio del 2018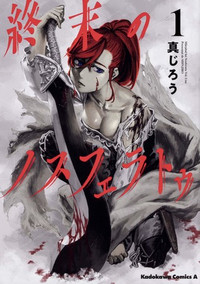 ---
Il numero di novembre della rivista Young Ace della Kadokawa ha rivelato che Shinjirō (Fate/Zero, Taboo Tattoo) terminerà il suo manga Shūmatsu no Nosferatu (Nosferatu of the End) nel successivo numero.
Shinjirō ha lanciato il manga su Young Ace nel febbraio del 2018. Il terzo numero del manga è uscito il 24 giugno. In questo manga di "azione sui vampiri", c'è un gruppo di immortali che hanno disseminato il mondo di tragedie, per poi sparire improvvisamente dalla storia. Dopo cento anni, una donna si risveglia di colpo dalla sua sepoltura in una foresta, senza ricordi. Viene immediatamente attaccata da un vampiro che vuole nutrirsi del suo sangue.
Shinjirō ha concluso il suo manga di 13 numeri Taboo Tattoo nel giugno del 2017. La Yen Press pubblica il manga in Nord America. L'opera ha ispirato una serie animata televisiva che ha fatto il suo debutto nel 2016 e Crunchyroll l'ha trasmessa in simulcast e tuttora è nel suo catalogo.
Shinjirō ha terminato il suo adattamento manga di 14 numeri della serie di light novel Fate/Zero di Gen Urobuchi e Type-Moon.
Fonte: numero di novembre di Young Ace
Notizia originale di Crystalyn Hodgkins su AnimeNewsNetwork