Welcome to the new anime season!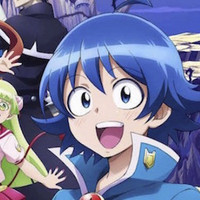 C'est le début de l'automne et donc le début d'une nouvelle saison d'animés. Parmi les animés qui débarquent en octobre en simulcast sur Crunchyroll, on retrouve Welcome to Demon School! Iruma-kun pour une rentrée en beauté. Vous retrouverez toutes les infos importantes sur la série ici !
RÉSUMÉ
Iruma Sullivan, 14 ans, est un jeune humain qui se retrouve un jour pris au piège dans le monde des démons. De plus, celui qui s'est autoproclamé comme son grand-père adoptif est le proviseur de sa nouvelle école ! Pour survivre, Iruma va devoir affronter un étudiant hautain qui le défie en duel, une fille introvertie et bien d'autres démons tous plus effrayants les uns que les autres ! Mais ce garçon au grand cœur va tenter de surmonter ces épreuves, notamment grâce à sa gentillesse qui désarçonne ses ennemis…
À SAVOIR
– L'histoire est adaptée d'un manga publié au Japon depuis 2017 par Akita Shoten.
– La série est produite par le studio BN Pictures (Aikatsu!, Dream Festival!).
CRUNCHYROLL
Lancement au Japon : 5 octobre 2019
Diffusion : détails à venir
Page Crunchyroll : à venir
FICHE TECHNIQUE
Titre original : Mairimashita! Iruma-kun (魔入りました!入間くん)
Genres : comédie, fantastique
Année : 2019
Format : 23 x 23 minutes
Auteur : Osamu Nishi
Réalisateur : Makoto Moriwaki
Studio de production : BN Pictures
TERRITOIRES
Welcome to Demon School! Iruma-kun sera disponible sur Crunchyroll dans le monde entier, excepté en Asie.